In 2016, the ENGIE group has set up 17 CSR targets for 2020 to materialize its commitments and support its Group's CSR policy. These objectives are fully in line with the 17 Sustainable Development Goals set by the United Nations for 2030.
ENGIE CSR objectives
The Group's 17 CSR Objectives for 2020 relate to the traditional environmental, social, societal and governance domains of the Corporate Social Responsibility.
They are broken down into six priority CSR objectives in light of the Group's transformation and the main stakes of its stakeholders. They are presented in the table below.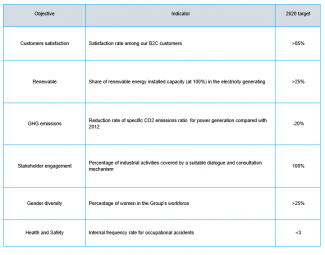 These 6 priority objectives are the subject of an annual presentation for the Final Year Results.
The 11 complementary CSR objectives in support of the Group's strategy and ambition to create shared value for its stakeholders are as follows: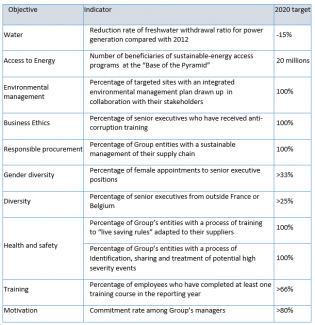 United Nations Sustainable Development Goals
The 17 United Nations Sustainable Development Goals (SDGs) aim to eradicate poverty, protect the planet and ensure that all people live in peace and prosperity by 2030.
The list of these objectives is as follows:
No poverty : End poverty in all its forms everywhere.
Zero hunger : End hunger, achieve food security and improved nutrition and promote sustainable agriculture.
Good health and well-being : Ensure healthy lives and promote well-being for all at all ages.
Quality education : Ensure inclusive and quality education for all and promote lifelong learning.
Gender equality : Achieve gender equality and empower all women and girls.
Clean water and sanitation: Ensure access to water and sanitation for all.
Affordable and clean energy : Ensure access to affordable, reliable, sustainable and modern energy for all.
Decent work and economic growth : Promote inclusive and sustainable economic growth, employment and decent work for all.
Industry, Innovation and infrastructures : Build resilient infrastructure, promote sustainable industrialization and foster innovation.
Reduced inequalities : Reduce inequality within and among countries.
Sustainable cities and communities : Make cities inclusive, safe, resilient and sustainable.
Responsible consumption and production : Ensure sustainable consumption and production patterns.
Climate action : Take urgent action to combat climate change and its impacts.
Life below water : Conserve and sustainably use the oceans, seas and marine resources.
Life on land : Sustainably manage forests, combat desertification, halt and reverse land degradation, halt biodiversity loss.
Peace, justice and strong institutions : Promote just, peaceful and inclusive societies.
Partnerships for the goals : Revitalize the global partnership for sustainable development.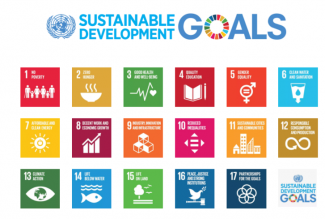 These SDGs are used to guide aids and advices which are given to states under the United Nations Development Program (UNDP). They were broken down into 169 targets whose follow-up is based on a list of 244 indicators.
The contribution of ENGIE's actions to these SDGs is described below.