In line with its transformation strategy (coal removal, renewable energy deployment, energy services development), ENGIE has been studying since 2015 how to make its GHG emissions evolution compatible with the Paris agreement.
COP23: ENGIE wishes a development of the company aligned on trajectory compatible with the Paris Agreement
By developing a low carbon energy mix and through its energy efficiency activities, the Group has put energy transition and the fight against climate change at the heart of its strategic focus. ENGIE is further increasing its decarbonisation efforts: the emission rate at the end of 2017 was 363g CO2eq/kWh, down -7% compared to 2016, and -18.1%compared to 2012 - almost reaching its 2020 target of -20%. The Group's absolute direct CO2eq emissions fell by more than 30 million tons in one year, from 120.5 to 89.2 million tons, a 26% reduction.
This excellent result reflects the Group's desire to follow an emission trajectory compatible with the Paris Agreement's objective of not exceeding +2°C by 2050.
The 2 ° C trajectory announced by ENGIE covers:
the very substantial reduction of our direct emissions by 85% by 2050,
the use and sale of green gas as a substitute for imported natural gas.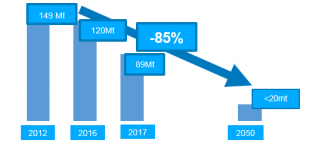 Science Based Targets (SBT) is an international expert initiative that assesses whether an economic player's greenhouse gas emissions are compatible with a 2 ° C trajectory.
ENGIE exchanges with the SBT teams, particularly on certain methodological aspects that still need to be clarified, in particular for the energy sector.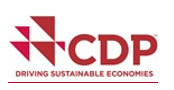 En 2017, pour la seconde année consécutive, ENGIE intègre la « A list » de l'agence de notation britannique CDP (ex-Carbon Disclosure Project) qui distingue les entreprises leaders pour leur stratégie et leurs actions dans la lutte contre le changement climatique.
The inclusion of ENGIE in the "A list" acknowledges the Group's commitments in the fight against climate change. The publication of CDP reports on climate change and the list of companies recognized as leaders in their strategy and actions in this area are highly followed indicators by investors and analysts. In 15 years, CDP has become the global reference in terms of communication and benchmarking of large companies on their greenhouse gas emissions and their performance in the fight against climate change.
In this questionnaire, the Group details particularly its analysis of the Climate risks which are dual: physical risks (climate impacts on our facilities, supply chain, etc.) and transition risks (regulatory, technological and market changes generated by the transition to an un-anticipated carbon free economy).
With regard to physical risks, extreme weather events (eg floods, droughts) or gradual events (eg rising sea level, warming temperatures) can have a strong impact on ENGIE's energy production assets and on the gas and electricity demand of its customers. Anticipating the impact of these phenomena is therefore essential to make the infrastructure and activities of ENGIE resilient. In the medium term (5 years), one of the major climate impacts for ENGIE's assets concerns the availability of water which is essential for its hydroelectric or thermal electricity production processes. It is from the extreme climatic events of recent years that ENGIE assesses the potential future financial impact of this type of event.
As for transition risks, more and more countries are announcing or considering a more or less long-term coal take-off to reduce these risks, and gradually align their emissions with a 2 ° C scenario. ENGIE anticipated this change in 2015 by deciding to withdraw from coal-fired electricity generation and launching its three-year transformation plan for 2016-2018. In 2019, ENGIE reaffirmed its ambition to be the world leader in zero carbon transition and accelerate its transformation. The short-medium term (3-5 years) transition risk lies for ENGIE in not finalizing its exit plan for coal and ending up with unsuccessful coal capacity that can not be sold. ENGIE uses site closure costs to estimate the financial impacts associated with these transition risks.
The response to the CDP questionnaire available on the CDP website presents also in detail the company's governance and strategy in the fight against climate change, the risks and opportunities for the company, the actions taken to reduce its emissions and help our customers reduce their emissions.
A source of greenhouse gas emissions is related to the fugitive CH4 direct emissions from natural gas infrastructures that lead to commitments, policies, objectives and action plans from the managers of these gas infrastructures.
Download the latest GHG emissions report from GRDF (gas distribution) in France (in French only)
Download the latest greenhouse gas emissions report from GRTgaz (gas transmission) in France (in French only)