For almost 30 years, the Group has been taking action to support every different situation and every type of disability. With over 10 agreements signed at Group level, the company has also committed to including 6% of people with a disability in its workforce, both in its offices and on site, by 2021. 

ENGIE was awarded the French Diversity Label in 2012, and again in 2020, in recognition of all these actions. 
Activism to promote diversity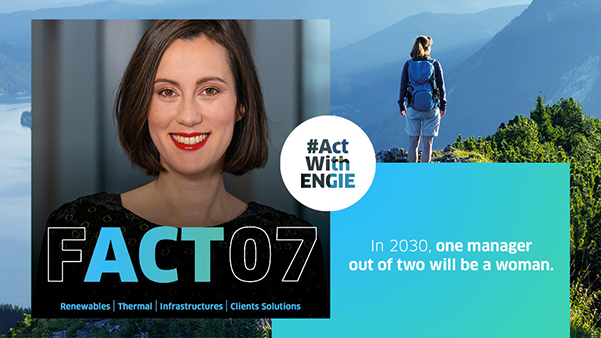 Today, the positive impact of gender equality in business is evident. And so, with the aim of becoming a reference for gender equality, the Group has spent over ten years developing increasingly ambitious diversity strategies.

Through our women's networks (Women in Networking created in 2008) and policies on mentoring, parenthood, equal pay, the fight against sexism, etc., we organise talks with experts, workshops and training sessions to raise awareness of all forms of inequality. These actions target the Group's male and female employees to ensure that everyone understands the benefits of diversity, and that nobody feels excluded. 

We have set a target for women to account for 30% of our workforce, and 50% of management, by 2030. And importantly, we publish our score on the gender equality index every year. 

We also promote these convictions beyond the boundaries of ENGIE Group. We share them with all our stakeholders and support them through community and cultural partnerships. We get involved early on, in primary and secondary schools, through our "J'apprends l'énergie" (I am learning about energy) project or in partnership with associations like Elles Bougent, Capital Filles and Science Factor, to show young girls that scientific or technical professions are not just for men, that they are fascinating, that they focus on key environmental, social and societal issues, and that they can be particularly fulfilling.