Be active in your own progress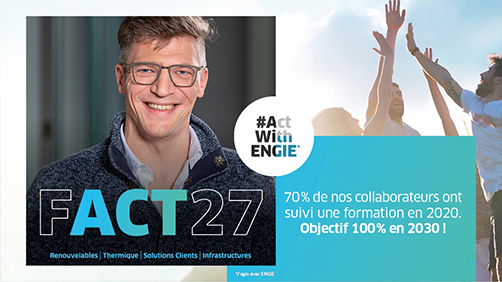 Training lies at the heart of ENGIE's ambition. Motivated by our desire to strive for progress, the Group is set on offering all employees training programmes that will enable them to grow, acquire new skills and learn the jobs of the future. 
With ENGIE University, professional schools, temporary campuses, and e-learning courses, there is something for everyone, whatever your age, your interests and your learning preferences. In 2020, 70% of ENGIE employees took at least one training course and by 2030, 100% of our employees will be trained every year. Consequently, a typical working day at ENGIE is inspiring and we aim to support you every step of the way.
Promotions and transparency regarding opportunities
When you work at ENGIE, you have the opportunity to discover new roles, to change jobs from time to time, and to grow, on both a professional and a personal level. We regularly organise company conferences, job fairs, and mobility events so our employees can discover all the opportunities that are open to them. Even more importantly, and because equal opportunities are in our DNA, all our offers of promotion and mobility can be seen by everyone. 
Progress in the company 
With operations throughout France and across all five continents, ENGIE is able to satisfy your wishes in terms of internal mobility, through either functional or geographic movement. This internal mobility is encouraged by our mobility unit and facilitated by special platforms, designed to help employees develop their knowledge of the Group and its business activities, think about their career plans, and turn them into reality. 
Alongside this, ENGIE has its own platform called SkillLib, which enables employees to apply for short or long-term internal assignments, offering opportunities to acquire new experiences, develop networks, and boost careers.
Change jobs
At ENGIE, we work hard to encourage and support all those who want to make a career change. This is the role of the mobility unit and our "Passerelles Métiers" plan, which help several hundred employees a year give new impetus to their careers. Passerelles Métiers provides the opportunity to combine a work contract with a several-month-long training programme. This option to alternate theory and practice is a sure-fire way to gain sound expertise quickly.