Thanks to its diversity and the complementarity of its experiences, ENGIE's Board of Directors takes into account the interests of all its stakeholders, including its shareholders, to meet the challenges that are revolutionising the energy world.
ENGIE's Board of Directors is composed of 13 members. In accordance with the Afep-Medef Code, 6 Directors are considered independent, i.e. a rate of 67% (1). ENGIE also ensures a balanced representation of women and men in the Board: 4 of its members are women (2). ENGIE also seeks to strengthen the diversity and international experience of its Board of Directors. 4 nationalities are represented in its midst.
Composition of the Board of Directors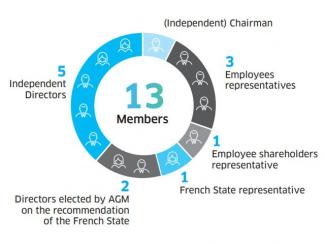 The Company is administered by a Board of Directors with 13 members:
Also assisting the meetings of the Board:
The Government Commissioner and the Representative central committee who acts in an advisory capacity.
The General Secretary, the CFO and the Board Secretary.
Committees of the Board
Four Committees assist the Board of Directors in its deliberations. Solicited on specific subjects in preparation for certain deliberations, they transmit their recommendations on the decisions to be taken. Each Committee is chaired by an independent Director.
(1) In accordance with the Afep-Medef code, directors representing employees and employee shareholders are not taken into account when calculating the proportion of independent directors.

(2) In accordance with the law, Directors representing employees who are not elected by the General Meeting are not taken into account for the calculation of the proportion of women and men.