For ENGIE, social dialogue and collective bargaining are pillars of the social cohesion that is essential to establishing the right conditions for its transformation and long term economic, social, and industrial performance.
Pour meetings with employee representatives are fora for valuable discussions between management and employee representatives, especially with regard to ENGIE's industrial, business, financial, and social strategy. Social dialogue is expressed through compliance with legal and regulatory provisions, and the existence of bodies for dialogue in tune with both the realities of business and those of different countries and geographical areas.
Three levels of social dialogue within the Group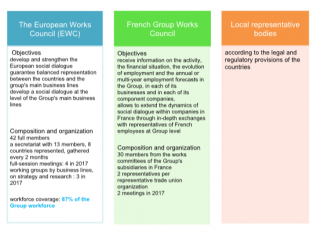 The group's principal agreements
International agreements covering the group's full workforce:
Worldwide Health and Safety Agreement (13 May 2014)
This agreement sets out and implements a selection of fundamental principles of health and safety in ENGIE companies and, insofar as is possible, within its supply chain and sphere of influence.
Health and safety for all are at the heart of ENGIE's plans for its business and for its people. The Group's ambition is to make it so that everyone in the company – directors, managers, employees, service providers – plays a proactive role in their own health and safety and that of their colleagues.
Global Agreement on Fundamental Rights, Social Dialogue and Sustainable Development (16 November 2010)
ENGIE signed the first global agreement on fundamental rights, social dialogue and sustainable development, which covers three main areas:
A social programme to support lasting employment (guaranteed equal opportunities, respect for rights to organise, training, health and safety, stable employment, and sustainability)
Environmental responsibility to support sustainable profits
Upholding commitments
This agreement is currently being renegotiated.
European agreements cover almost 90% of the group's employees.
New European Agreement on Professional Gender Equality (21 December 2017)
Constituting an extension of the earlier agreement signed in 2012, the Group is also paying special attention to women in non-managerial positions, including in technical roles, to support their career development. To implement this agreement and encourage mindsets to change, all of the Group's European companies are establishing and following their own action plan. They are committed to:
Ensuring that both men and women have the same career progression, whatever their working hours, while promoting a better work/life balance
Achieving equal pay for the same working conditions
Preventing sexual harassment and sexist behaviour
Supporting restructuring and mobility, with an eye on work/life balance
Making sure that suppliers and subcontractors act in compliance with equality and non-discrimination legislation
Through this new European agreement, ENGIE is consolidating its promises as a leading employer, and positioning itself as an innovative and responsible member of society.
European Social Agreement (8 April 2016)
This agreement has two priorities: to bolster professional excellence and develop the employability of its employees. Evolutions to sectors and roles will be planned for and shared as part of a consolidated social dialogue on the company's strategic direction and its consequences in terms of skills and employment. The creation of a space for social dialogue within our BU demonstrates the willingness to place foresight at the heart of social dialogue at every level of the Group.
To help each employee develop their own career path within the Group in a context of changing organisations, the agreement also includes an ambitious training policy and encourages the promotion of internal mobility, as a priority over all external recruitment. Thus, in Europe ENGIE is committed to providing an annual training budget of €100m, and to delivering training to two thirds of our staff, mostly in professional skills.
If our organisations are led to change, the Group will make sure that every employee is offered a new position that best meets their background and aspirations.
European agreement on improving quality of life in the workplace (27 November 2014)
This European agreement sets out a framework for the continuous improvement of quality of life in the workplace in every entity, through social dialogue and acknowledgement of the full range of stakeholders.
The aim of the agreement is to encourage initiatives that can improve quality of life at work, in particular by:
Encouraging employees to express their expectations and points of view on their quality of life in the workplace
Raising every employee's awareness and understanding of issues relating to quality of life at work for themselves and for others
Ensuring that all managers, from directors to local managers, are actively working on managerial aspects of quality of life at work
Placing quality of life at work at the core of structured and clearly defined social dialogue
Providing a shared framework to identify priority actions