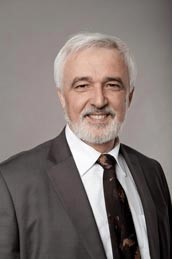 Welcome to the Mediation website for the ENGIE Group.
My objective: to help you, with my dedicated team, to find a solution to the dispute that opposes you to one of Groupe ENGIE's services. We will strive to resolve your dispute, free of charge, in complete independence, impartiality, neutrality, in law and equity.

I commit to having a single contact person at your disposal throughout the mediation process presented on this site.
 
What is mediation ?
 
Mediation is a structured process by which parties attempt to come to an agreement in order to settle a dispute amicably and with the assistance of an independent third party, the ombudsman.
 
And what is ENGIE group Mediation ?
 
Set up in 1999, ENGIE group Mediation primarily aims to settle, entirely independently and impartially, disputes with people and organizations affected by Group activities, whether or not they are clients. It offers an amicable settlement procedure before an independent third party to those dissatisfied with the responses received to their complaints. ENGIE group Mediation is therefore an alternative to litigation - not an alternative to complaints handling by the company.
 
The main and priority duties of the ombudsman
 
Consumer ombudsman for disputes with individuals and small professional clients
 
Under Consumer Code provisions concerning the amicable settlement of disputes, the ENGIE group consumer ombudsman is independent, has no line or staff reporting link with the Group and has his own budget. The ombudsman himself was initially accredited by the State Committee for the Evaluation and Control of Consumer Mediation on February 26, 2016 for 5 years. His mandate was renewed for 5 years on February 22, 2021. He is on the European Commission's list of ombudsmen.
B2B ombudsman for disputes between companies
 
The ENGIE group's independent ombudsman can also mediate in disputes between Group entities and the companies, suppliers, providers and partners (communities, institutions, administrations) that are their clients. He is the designated body for amicable dispute resolution in the ENGIE group's general terms and conditions of sale.