The ENGIE solution: creating a biomass cogeneration plant
Used primarily in the pharmaceuticals and food sectors, sodium carbonate and bicarbonate require steam energy for their production process. Until now, coal was used to generate this steam energy at the plant in Laneuveville-devant-Nancy (Meurthe-et-Moselle, France), where Novacarb, one of Europe's leading manufacturers in the sector, set up its operations over 160 years ago. The manufacturer called on ENGIE to improve both its energy production facilities and its environmental performance. What was the result of this partnership? A biomass cogeneration plant replacing two coal-fired boilers with a 65 MWth biomass boiler and a 14.6 MW turbine to generate green electricity. Due to be operational in 2023, the highly efficient facility will reduce the plant's annual coal consumption by 40%.
Biomass as a sustainable energy source 
The future biomass cogeneration plant will be fuelled from sustainable and responsible sources, primarily reclaimed wood, 60% of which will be collected in the Grand Est region from furniture, pallets, wooden flooring etc. found in recycling centres. The remaining 40%, recovered from end-of-life railway sleepers, will come from a partnership with SNCF Réseaux. The facility will produce an estimated 115 GWh of green electricity a year, enough to supply 25,000 homes of 4 people. To reduce the cogeneration plant's environmental impact, it will also be fitted with an efficient smoke treatment system in compliance with the latest European standards.
"I would like to thank ENGIE and all our partners for their support in this project, which plays a decisive role in the energy transition of our La Madeleine plant."
Frédéric Louis, Novacarb's plant director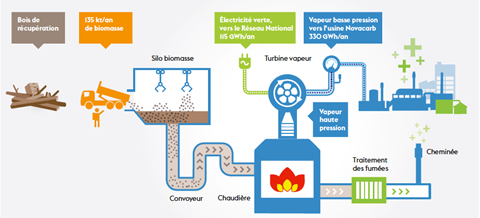 Key figures
40% reduction in annual coal consumption in 2023, 100% in 2024.
115 GWh of green energy generated per year
135,000 t/year of reclaimed wood.
150,000 t/year of fossil carbon emissions offset, the equivalent of 18,750 French citizens' annual carbon emissions or 43,000 return flights from Paris to New York.
181 direct and indirect jobs created locally.