The French government is supporting the GRHYD hydrogen energy storage demonstrator project now being conducted by ENGIE and a consortium of industrial partners2. France has set the target of meeting 23% of its gross end-user energy consumption from renewable sources by 2020. This ambitious project aims to convert surplus energy generated from renewable sources into hydrogen, which will then be blended with natural gas for a broad range of applications, including space heating, water heating and fuel. As a result, generators of energy from intermittent renewable sources, such as wind and solar power, will have a new solution for marketing the electricity they generate, at the same time as reducing greenhouse gas emissions.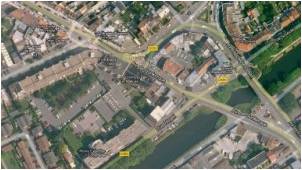 The project was launched in 2014. The first two years were devoted to a phase of technical and sociological studies, followed by a five-year demonstration phase of two uses of hydrogen injection: transport and housing.
Development of hydrogen in this way delivers a direct response to a series of energy and environmental challenges…
by helping to reduce greenhouse gas emissions
by promoting regional industrial expertise and natural resources
by supporting local economic development
by preparing for the introduction of hydrogen-powered vehicles
To evaluate the technical, economic and environmental relevance of Power-to-Gas, two demonstrators for this new energy solution are now up-and-running as part of a project involving local authorities and local residents in the Dunkerque Urban Community:
A transportation demonstrator
The industrial scale Hythane® fuel project. A VNG bus fueling station will be adapted to handle the hydrogen/natural gas blend, which will begin with a 6% hydrogen content that will be increased over time to 20%. A fleet of around 50 buses will be operated using this hydrogen-natural gas blend.
A residential demonstrator
A new residential neighborhood of around 200 homes in the Capelle la Grande district of the Dunkerque Urban Community will be supplied with a blend of hydrogen and natural gas using a variable hydrogen content of below 20%. Production will be based on energy from renewable sources (wind power) injected into the power distribution network. Surplus power will be used to produce hydrogen for storage and subsequent distribution to meet demand.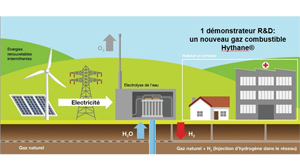 Power to gas : The GRHYD demonstrator makes it possible to valorize the ENR (green electricity not finding an outlet on the electricity network) in the form of hydrogen gas distributed in the natural gas network, by implementing the Power-to-Gas concept.
The results of a simulation of the gas and hydrogen needs of the first 100 homes made it possible to determine what hydrogen installations would be required for electrolysis, storage and injection, and which models.
The proton exchange membrane (PEM) electrolyzer can produce up to 10 normal cubic meters of hydrogen per hour. The storage module has a capacity of 5 kg. The hydrogen is stored thanks to a technological innovation, in the form of metal hydrides.
The electrolyzer and storage technology have been tested in real operating situations to meet the energy demands of neighborhood residents.
Demonstration
Hydrogen converted back into gaseous form can be injected into the natural gas network to constitute a new fuel. The demonstration starts with the injection of the first molecules of hydrogen into the distribution network to supply homes in the new neighborhood.
The quantity of hydrogen mixed with the natural gas will vary depending on the availability of green electricity while remaining below 20% in volume in order to respect safety regulations.
Partners in the GRHYD project inaugurate France's first Power-to-Gas demonstrator