When you join a work-study programme with us, you will enjoy an instructive experience, with a qualification, in a leading worldwide group in the low-carbon energy sector, that is recognised and valued on the labour market.
Five reasons to join a work-study programme at ENGIE 
More than 8,400 work-study students in France and 4,000 new hires per year
Our goal: 100% of work-study students who are qualified in a sector with a future
One half of our work-study students receives a job offer in a technical profession
Exciting missions that contribute to creating a carbon-neutral world
One work-study student = one tutor to help you on your path to success 
A community dedicated to our work-study students that will build your network and develop your knowledge: The Young Talent Community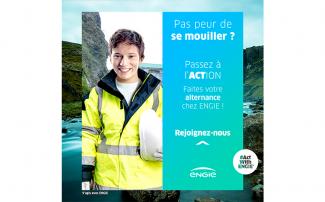 of work-study students in the Group's headcount in France by 2023
50 %
our recruitment target on permanent or temporary contracts in our technical professions after their training
There are numerous ways to join our work-study programmes
Whether you are looking for an apprenticeship, professional training or re-training, we are hiring people in more than 100 trades. With qualifications ranging from technical diplomas, to 5 years in higher education in technical functions (maintenance, climate engineering, etc.), business, engineering, support and IT functions.
The ENGIE technical qualification extends beyond "conventional" work-study programmes, by offering a "turnkey" curriculum: 
Find out more about the energy transition Academy.
Top quality training + field experience in the Group + a qualification = a guaranteed job in a profession with a future!

 
"Apprentiswap" is another innovative programme created by ENGIE and NESTLE that allows young students to complete their work-study programmes in two partner companies. It is a great opportunity for students to gain more experience and to extend their networks, while discovering different ways of working in two sectors of activity.
Our work-study students are well placed to talk about the work-study programmes at ENGIE.
Hear what they have to say on video!
With us, you can join a work-study programme like no other
When you join ENGIE, you will do a job that has a positive impact, you will be in contact with a committed community, and you will take control of your career. It is a deal between you and us.
The all-inclusive environment at ENGIE does not allow for any forms of discrimination regarding gender, sexual orientation, disability, social origin or religion.