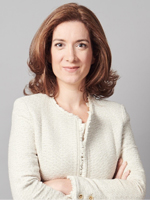 Anne-Laure de Chammard has been appointed Director of Strategy for the ENGIE group, effective October 1st 2019. Anne-Laure will take over from Antoine de La Faire, who has been appointed CEO of ENGIE Solar. She will report to Shankar Krishnamoorthy, Executive Vice President in charge of Strategy & Innovation, Industrial Development, Research & Technology, Procurement and of the supervision of the Business Unit Africa.
Previously, she served as President and Chief Executive Officer of Bureau Veritas Construction, a subsidiary of the Bureau Veritas group, and was a member of the French Government's High Council on Construction and Energy Efficiency.
Anne-Laure de Chammard graduated from the Ecole Polytechnique and the Ecole Nationale des Ponts et Chaussées. She also holds a Master's degree in Public Policy from the Harvard Kennedy School.
Anne-Laure started her career in the USA in 2008, as a strategy consultant with the Boston Consulting Group. She then joined the French Ministry of Sustainable Development and Energy in 2010, where she was in charge of awarding and supervising major infrastructure contracts (motorways, high-speed railways, etc.) within the framework of public-private partnerships. She joined the Bureau Veritas Group in 2014 as Regional Manager for Burgundy Picardy Champagne-Ardenne (France), before being appointed President and CEO of Bureau Veritas Construction in 2016.
Anne-Laure also sits on the Supervisory Board of Marseille - Provence Airport.