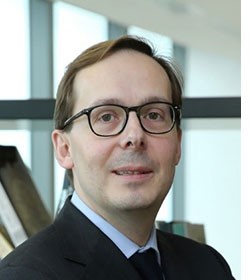 After graduating in law from the Universities of Louvain (Belgium) and Göttingen (Germany), François Graux begins his professional career in 1993 as a lawyer with Stibbe Simont Monahan Duhot in Brussels. Four years later, he joins Tractebel and starts a career as inhouse counsel. 
In 2000, he moves to Thailand as a lawyer in charge of Tractebel Group's development activities in the Asia-Pacific region. Returning to Brussels, he holds the position of General Counsel for Suez Energy International and for GDF SUEZ Energy Europe & International. 
He continues his career in London, in 2011, for International Power plc. In 2013, he is appointed Group General Counsel of ENGIE and drives ENGIE's legal line. He now adds the role of Group Deputy General Secretary to his scope.