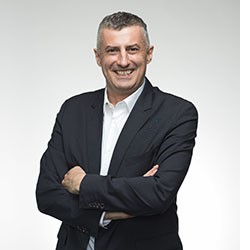 Pierre Cheyron, 47 years old, holds a Master's degree in digital, energy and environment from IMT Atlantique. He first held various management positions at Alcatel-Lucent in Asia and Europe before joining ENGIE in 2011 as CEO of Cofely Southeast Asia. He then oversaw all ENGIE's Asia-Pacific services activities from 2015 to 2018, before becoming Managing Director of ENGIE Southeast Asia.
Pierre was also President of the French Chamber of Commerce and Industry of Malaysia from 2011 to 2015. He is currently a member of the Board with the French Chamber of Commerce in Singapore.
As Managing Director of the Global Business Line Client Solutions, his main challenges will be to continue and accelerate ENGIE's vision of leading the transition to a low carbon economy, by offering sustainable, decarbonized solutions to our key clients in the market segments of Industries, Properties, Cities and Communities.
Investors relations contact
Tel. : +33 (0)1 44 22 66 29
Email: ir@engie.com