Five year on, what role has COP21 played in the fight against climate change? 
Benoît Leguet: COP21, and the Paris Agreement that resulted from it, set a framework for climate action, with three goals. The first being to cut our greenhouse gas emissions, but reducing them is no longer enough - we have to bring them down to net zero, which means the planet must absorb as much greenhouse gas as we emit. It is a clear target! The second goal concerns the resilience of our economies to the inevitable impacts of climate change. This is an issue that is all too often neglected. The third is to align financial flows with the other two goals, thereby bringing the financial sector on board. There are now countless government coalitions, local authorities, businesses and financial institutions with "Net Zero" in their name, like the "Net Zero Asset Owner Alliance", for example. COP21 brought all these players together to focus on a clear objective. Now we must deliver.
Anne Chassagnette: The climate issue was already getting a lot of attention. ENGIE, for example, was very early to get on board: our first targets to cut emissions date back to 2012 and enabled us to achieve a 56% reduction between 2012 and 2018. COP21 stimulated collective emulation and incited the economic, financial and business sectors to step up their action. At ENGIE, we decided to phase out coal, reinforce our development of renewable energy sources and, in early 2020, obtained SBT (Science Based Target) certification which approves our emission targets for 2030, a key step towards the Group's carbon neutrality. Going even further, ENGIE made this commitment the focus of its corporate purpose, adopted at our 2020 AGM.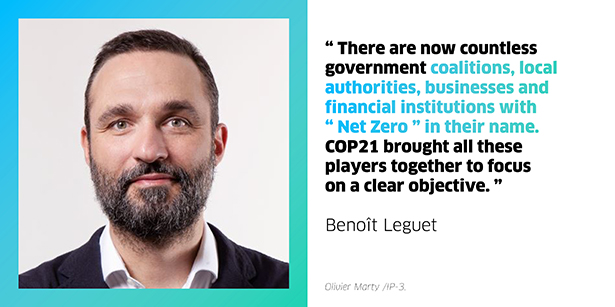 What are the drivers that will enable us to meet these goals by 2030/40/50?
Benoît Leguet: To meet medium and long-term goals, we need strong and coherent public action. This is vital to ensure visibility for economic stakeholders. When a country (or region) adopts a trajectory to reduce its emissions in line with "carbon neutrality", it reinforces future economic models. Year on year, these trajectories must be made credible through coherent public policies that are sustainable over time. One obvious example is standards, in housing or mobility, but we can also consider public budgets (taxation and spending), financial regulation, etc. All these public policies – which might sometimes appear, at first glance, far removed from climate issues but which provide structure to a country's economy – must take the climate emergency into account. We must put climate at the heart of all public - and private - action.
Anne Chassagnette: We are focusing on new technologies and developing an effective production mix approach that will enable us to respond to the intermittence of renewables by combining strong growth in electricity and green gas renewables – particularly hydrogen – to offer continuous, decarbonised supply, while optimising our use of existing networks. 
Since 2014, we have also been a pioneer in green finance. Since then, we have issued EUR 12 billion of green bonds, meaning that we are now the largest corporate green bond issuer. Combined with the European recovery plan, these bonds have enabled, and will continue to enable us to finance projects that boost employment and support the transition to a carbon neutral economy by developing new technologies.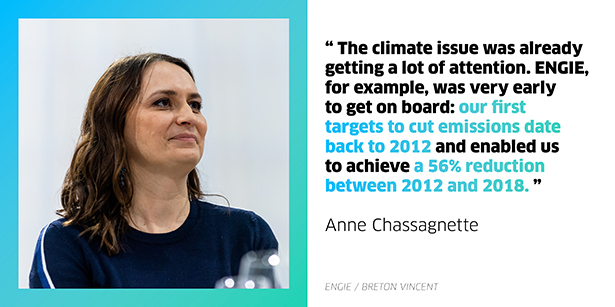 What can we expect from COP 26?
Benoît Leguet: The Climate Change Conference is a much-anticipated event every year and this will be even more the case for COP26 because there will not have been a summit in 2020 and yet governments are being called on to strengthen their climate commitments. But we must not be mistaken - international commitments simply reflect national action. It is therefore this national or regional action that, ahead of COP conferences, we need to monitor. The European Union is making no secret of its ambition to step up its emissions target to a 55% reduction by 2030, to remain on a carbon neutral trajectory for 2050. China has already announced its goal to be carbon neutral by 2060. Meanwhile, the change at the White House brings hope of a greener policy in the US. All these positive commitments must be made credible through coherent national public action.
Anne Chassagnette: COP26 is important because the Paris Agreement enters into force/becomes legally binding in 2020. If, as expected, it leads to an escalation of signatories' ambitions in terms of reducing emissions, this will create a favourable framework for companies like ENGIE, who are committed to supporting all players in the transition to a decarbonised economy. See you in Glasgow in just less than a year's time!