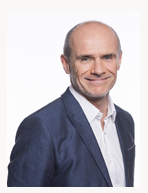 Yann Rolland Managing Director of ENGIE Solutions' Cities and Communities BU
 
How can we make public transport more appealing in a world where we are all seeking to spend our time doing things that are more enjoyable?

There are two ways to do this: the proposed route must be optimal and the onboard experience needs to be engaging.

Regarding the first point, digital platforms are a major asset. By sharing data in real time, they provide a comprehensive view of mobility options across the region. They therefore contribute to a way of managing public space that is increasingly geared towards people and their requirements. La Baule is the first city to have concretely implemented ENGIE's Livin' platform, which makes this public space management possible.

Regarding the on-board experience, this is made more appealing by real-time information and entertainment services that rely on high-quality connectivity. SYSTRANS and ICOMERA are engaged in the provision of these services – they have developed our main offerings designed to maximise people's well-being on buses, in metro systems and on trains.

These high-performance digital solutions now supplement our expertise in the construction and maintenance of transport infrastructure.

Because we believe that technology must serve people and not the other way around, we are happy to be partners in MovinOn. At ENGIE we take action! Watch the interview with Isabelle Kocher, CEO of ENGIE, at the Citizen of the World conference, central to a more inclusive transformation, on May 30, 2018 from 1:30 PM to 2:35 PM.