The HyGreen solution: local, storable and multi-purpose renewable energy! 
The first commercial project of this scale in France, HyGreen Provence is centred around the construction of a local renewable energy production system. This alternative energy will be recovered in large part as renewable hydrogen. 
How will it work? 
A genuine regional ecosystem will be developed: pending the provision of financial support, as of 2023, electricity will be produced from solar energy. One part will be directly injected to the network. Another part will be recovered as hydrogen by an electrolyser.  
By 2028, this gas will be stored in salt caverns on the Manosque storage site, which belongs to Géométhane (a 50% subsidiary of Storengy), and distributed for a wide range of uses. Not only will it be able to supply a network of green mobility stations implemented throughout the region, but, above all, it will contribute to the decarbonisation of the regional industrial fabric. Finally, it could also be used for other purposes, such as heating and cooling.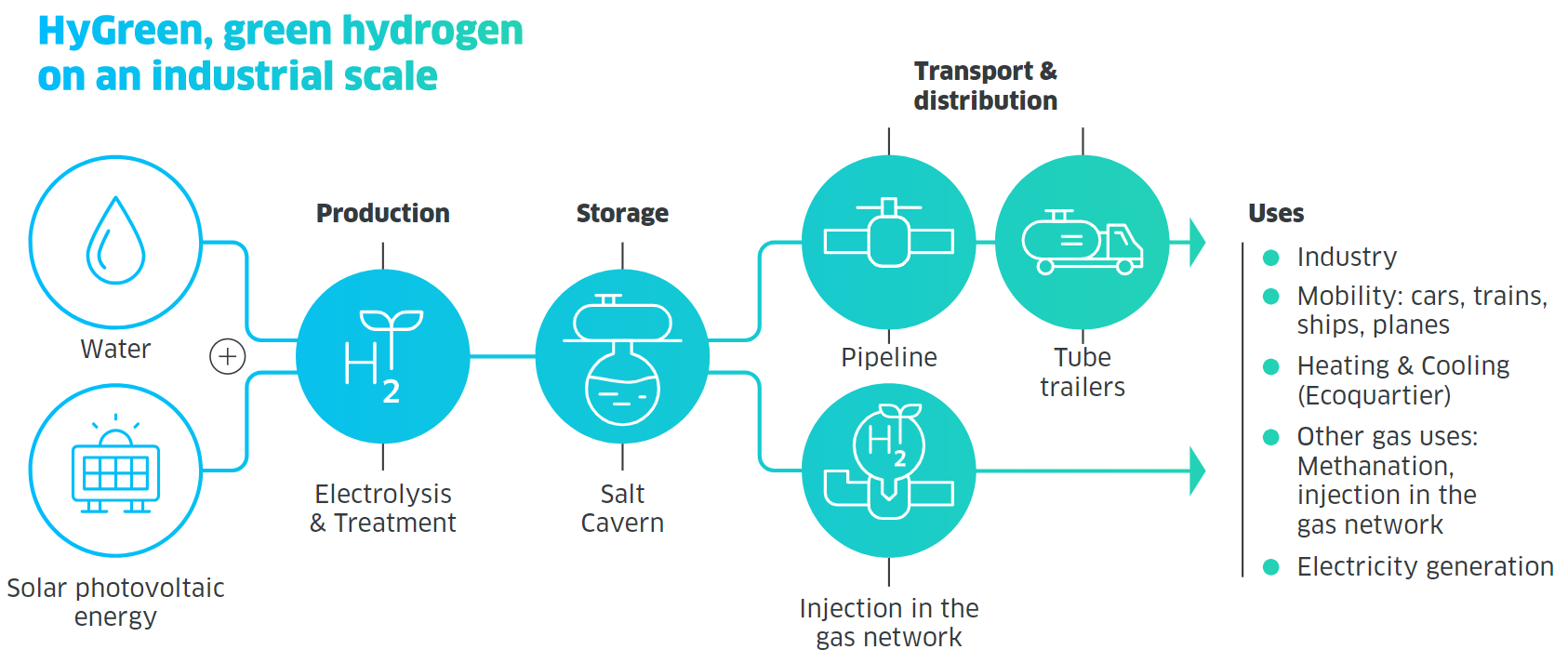 Proposed by ENGIE (through its ENGIE subsidiary, and its entity dedicated to hydrogen) and its partner DLVA, HyGreen Provence represents a global solution, the product of technical synergies, which will hugely contribute to local and regional development in the region. 
With both economic and industrial objectives, HyGreen is also the result of a collaboration of  different stakeholders, with a view to preserving landscapes (forested areas, croplands, etc.) and to respect biodiversity, ensuring harmonious development in the region. The Verdon and Luberon natural parks have contributed, in particular, their expertise in terms of protection of areas. 
"Above all, HyGreen Provence is an ambitious and innovative project. It rallies all concerned stakeholders with a desire to work together, in particular the Luberon and Verdon Parks. With this project, we are contributing to France's energy transition alongside renowned industrial companies who, through their respective expertise, lend credibility and viability to a zero-carbon emission requirement."
Jean-Christophe PETRIGNY, President of the DLVA 
By 2028: 
1,500 GWh/year of renewable electricity converted to hydrogen, i.e. the equivalent to the residential consumption of 500,000 people
30,000 tons of renewable hydrogen produced annually for multiple uses: mobility, energy and industrial uses throughout the region
More than 300,000t/year of CO2 emissions prevented, i.e. the equivalent to the annual consumption of 37,500 French residents