The Masshylia solution: to use renewable hydrogen on an industrial scale to continuously produce biofuels
From 2026, Masshylia will produce its first green hydrogen. A first important step towards meeting France's low-carbon energy mix ambitions.
What is this new solution? Installed in the heart of TotalEnergies's biorefinery at La Mède in the southern Provence-Alpes-Côte d'Azur region in the south of France, the project presented initially a 40 MW electrolyser, for a 15 tonnes of renewable hydrogen per day.
In 2022, the project scaled up to a production capacity of  120 MW, for an average of 50 tonnes of renewable hydrogen every day, to meet the plant's biofuel production needs. This electrolyser will be supplied with electricity from solar and wind farms with an overall capacity of more than 300 MW and complement of electricity coming from the grid.
How is this project innovative? The project is ground-breaking in a number of ways: thanks to hydrogen storage and the implementation of an energy management system, it will be able to partly overcome the issue of intermittent renewable electricity production and increase project competitiveness. This will guarantee a continuous supply of hydrogen to the biorefinery. 
These innovations make Masshylia a role model for industrial decarbonisation that is unique in Europe.  
An internationally reproducible hydrogen ecosystem
In addition to the biorefinery's own energy needs, the hydrogen produced will be able to serve the needs of the industries surrounding Fos-sur-Mer (Marseille) and local mobility  and service projects (road, sea and rail).  
Masshylia thus paves the way for a reproducible hydrogen ecosystem, on an industrial and multi-purpose scale, that will contribute to the development of the area while also having an international reach thanks to its proximity to the Mediterranean.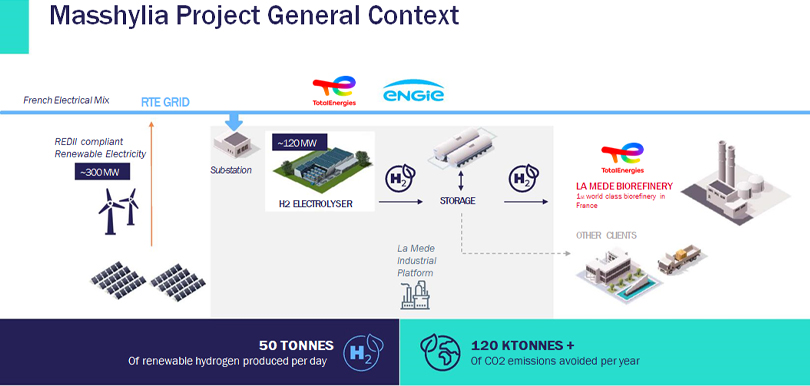 Key figures

An average of 50 tonnes of green hydrogen produced every day by a 120 MW electrolyser.
> 300 MWp of total capacity for the solar and wind farms supplying power to the site.
More than 100,000 tonnes of CO2 emissions avoided per year, i.e. the equivalent annual CO2 emissions of 10,000 people in France.
Find out more
* Subject to obtaining financial support and authorisation from the relevant competition authorities.