Comprehensive measures to help out parents have been implemented, involving a policy linking parenthood, the place of women in business and social responsibility. It is based around a 60-bed company crèche situated at La Défense, projects to reserve spaces at intercompany crèches as well as a website containing practical information and tools aimed at parent employees.
GDF SUEZ has built its crèche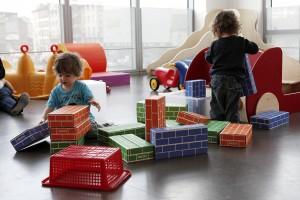 The company crèche, situated at La Défense, is at GDF SUEZ headquarters. It is a wonderful architectural space that doubles as a comprehensive educational institution.
In January 2011, the TBabies crèche opened its doors to 60 young children aged 0 to 3 years. The crèche is being run by Babilou.  This infancy specialist is responsible for welcoming children into the first crèche built according to the French high-rise buildings regulations.
It is an ambitious and innovative project for more than one reason: its location, size and aims to provide an educational program.
GDF SUEZ has chosen a customised approach and has engaged numerous specialists to carry out this dedicated project.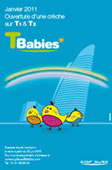 T babies crèche summary
60 spaces: 20 toddlers, 20 babies, 20 newborns
6 emergency spaces
Open from 8 a.m. to 7.30 p.m.
A team of 22 staff
An exceptional site at the heart of La Défense: large balcony, garden view
590 m2 of indoor space and 80 m² of balcony space
Crèches available throughout France
To complement the opening of the TBabies crèche, GDF SUEZ has signed a partnership agreement with the first French network for crèche managers.  A hundred places in the crèche network are now available for Group employees, near to their place of work or their home.
E-famili: the website that makes employed parents' lives easier
Take a look: this website has information, tools and services aimed at making daily life easier for employed parents, future parents, young parents or grandparents, and is also more generally for all employees concerned about balancing their personal and professional lives.
e-famili™, which is a time-saving tool, brings together a multitude of information that is updated daily, offering new and practical services that are accessible from the office or from home, explanatory articles, pieces on modern parenting news and interviews with experts. Finally, the site decodes administrative approaches, provides information on new laws and grants access to practical tools such as:
letters and standard contracts,
personalised pregnancy calendars,
vaccination and school holiday calendars,
a search engine listing all maternity hospitals.