Integrity is one of the four principles on which ENGIE has based its ethics and compliance policy.
The integrity referential provides a framework for "behaving honestly and promoting a culture of integrity".
It comprises the policies below, among which several are part of the ENGIE anti-corruption program, which incorporates best international standards (UK Bribery Act, US Foreign Corrupt Practices Act (FCPA), French Sapin 2 law).
Due diligence policy
The Group has adopted several so-called ethical due diligence policies, which consist in investigating our third parties, namely our suppliers and subcontractors, our commercial consultants, our partners in the context of investment projects, beneficiaries of sponsorship, etc., before the beginning of any business relationship or partnership. This ensures that these parties do not represent any major ethics risks for ENGIE and that they are not in violation of any rules governing human rights, health and safety, and/or the environment). There are two levels of due diligence. The level 1 is carried out by the members of the ethics network. With regard to so-called enhanced due diligence (level 2), ENGIE has chosen to be part of an innovative trend by creating its own "team" of internal investigators (called Bureau des Due Diligences) who are responsible for carrying out these ethical investigations.
Due diligence policy for investment project partners: This policy covers the due diligence required for future partners for Investments Committee, GBU and Group projects.
Due diligence policy for corporate sponsorship and patronage: This policy covers the due diligence required for future recipients of corporate sponsorship and patronage.
Due diligence policy for suppliers and direct sub-contractors: This policy covers the due diligence required for future suppliers and direct sub-contractors.
Business Consultants policy: To prevent any ethical risks that may arise over the course of a project, from the contract negotiation phase to its implementation, ENGIE has built a business consultant policy whose key elements include: an ethical due diligence of all business consultants, the analysis of the business rationale of their missions, a framework governing compensation, traceability of selection decisions and services provided.
Data privacy notice
Paragraph content
"In the context of its activities, and in accordance with the applicable regulations on anti-corruption, anti-money laundering and in accordance with its duty of vigilance, ENGIE may collect personal data from its third parties or future third parties.
The data is collected via various publicly accessible data sources and is used for the purposes set out above. Within the framework of this data processing, the categories of data likely to be processed are the following:
Identification data
Professional data
Data relating to any reputational or anti-corruption history
Data relating to the entourage
The data are collected in application of all the legal obligations of ENGIE and in particular in the framework of the treatment of anti-corruption, anti-money laundering and in accordance with ENGIE's duty of vigilance will be kept for a period of 6 years in order to respond to the requests of the various anti-corruption agencies which may ask ENGIE to demonstrate the performance of due diligence within the framework provided by the law.
This notice is applicable to all Group entities unless otherwise provided for by national law."
Gift, hospitality and technical trips policy
The Group wants to limit, as far as possible, the quantity and value of gifts and hospitality, whether they are given or received by Group employees.

The gifts, hospitality and technical trip policy aims to prevent any type of corruption, conflict of interests or influence peddling. It outlines the general principles to respect in matters of gifts and hospitality, in particular for technical and study travel, relations with public authorities and invitations to events. It provides a framework for the transparency of the practice by requiring information, declaration or prior authorization depending on the amount of the gift, invitation for technical trip or study. It is supported by a dedicated Group tool (My Gift & Hospitality Register).
 
This ENGIE policy is applied in each entity of the Group.
Policy for the prevention of conflicts of interests
The policy for the prevention of conflict of interests aims to eliminate any doubts concerning the impartiality of a decision taken by a Group employee or his or her potential lack of loyalty in taking a decision, and to find adequate solutions in case of a conflict of interests, such as the possibility for employees to abstain without having to disclose the nature of their conflict of interests, in order to preserve employees' right to respect for their private life.
This policy informs employees and guides them if facing such situation: it gives them examples of situations, and specifies the process for management and traceability in this matter.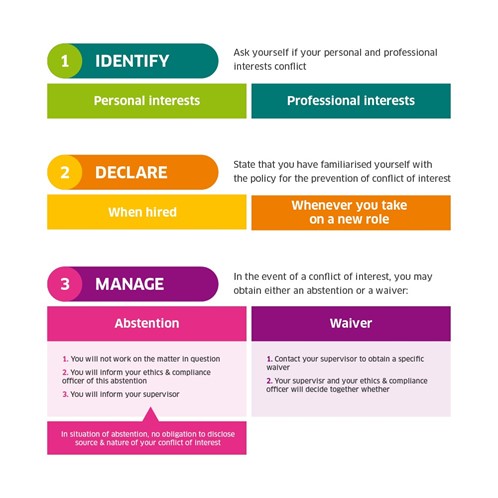 Operating rules for Patronage and sponsorship
In addition to the due diligence policy for beneficiaries of sponsorship, these Operating Rules are intended to provide a framework for the support provided by the Group through its patronage and sponsorship efforts, in accordance with the law, particularly regarding fight against corruption and the Group integrity requirements. It ensures transparent practices by establishing rules for selecting projects, partners and activities. It also sets up a process for validating projects by the Patronage and Partnership Committees at the Group and within each GBU.
Ethics, health & safety, social & environmental responsibility clause
ENGIE's Ethical, health & safety, social & environmental responsibility clause must be inserted into all contracts with every Group supplier, service provider, subcontractor and partner, regardless of the entity with which they are working.
This clause includes the prohibition of all forms of corruption, compliance with competition and embargo rules and compliance with human rights standards and regulations. It directs the contracting party to review the Group's ethical documents, requires it to follow the ethical rules outlined in these documents throughout the duration of the contract, and to ensure same respect of these rules by its own subcontractors if any. It also informs it of the contractual consequences in case of non-compliance with these rules.