The Group positions itself regarding its customers, partners and society in general, as a player in the circular economy, by producing a renewable energy such as gas or electricity and underlying services, or by offering carbon-free solutions.
Context
Energy is one of the important flows of the circular economy. ENGIE is therefore at the heart of possible solutions for the preservation of resources, the reuse of energy such as biomethane production or heat recovery.
The diagram below illustrates the place of energy in the loop of the circular economy.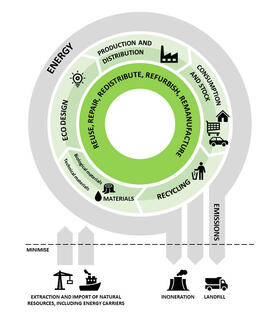 Incorporating the recommendations of an internal audit on waste management, ENGIE has since translated, in its environmental policy, its desire to reduce the quantities produced and increase the rate of recovery of its waste.
The commitments of the Group
On 1 February 2017, under the coordination of the AFEP (the French Association of Private Enterprises), the ENGIE Group, along with 32 other French companies, has undertaken three engagements to develop the circular economy:
Boosting renewable gases: biogas, first, second and third generation biomethane in France
Develop energy recovery on industrial and tertiary processes
Tooling innovatively to help decision-making process relating to circular economy in industrial zone (BECIRCLE tool: action completed in 2021)
In 2022, ENGIE has strengthened these commitments with 3 new objectives:
Biomethane development in Europe
Reducing the quantities of waste disposed of (hazardous and non-hazardous)
Recycling of work clothes
Find out more about the Group's commitments
Through its Circular Economy policy , ENGIE is committed to..: 
Increase the recycling rate of waste generated by industrial activities 
Develop green gases such as biomethane and hydrogen 
Identify recycling channels and thus reduce the impact on resources, particularly for renewable solar and wind energies 
Use resources sustainably via certified or labeled channels (e.g. biomass) 
Combat deforestation in the supply chain and use only biomass from sustainably managed forests as defined by the SBP (Sustainable Biomass Program) standard. 
Promoting the re-use of spare parts and stock circulation within the Group via a dedicated platform (BeeWe)
This policy is reflected in the Group's objectives for 2030:
In addition, in 2022 ENGIE has achieved an 80% recovery rate for non-hazardous waste and a 21% recovery rate for hazardous waste.
The circular economy in action
BE CIRCLE, innovative nature
BE CIRCLE has been developed within a European collaborative project as a service for industrial companies and their ecosystem. It aims to facilitate their transition to a circular economy.
Based on a modelling platform, the tool aims to:
develop synergies between businesses to save resources and make economic gains
decarbonize industrial activities
optimize the footprint
Biogaz and biomethane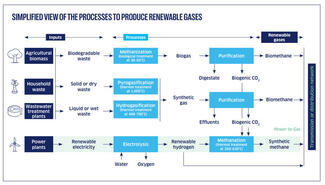 In France, ENGIE has set itself the goal of greening the gas industry to achieve 100% renewable gas by 2050. The Group is present throughout the entire biomethane chain, from the development of industrialization projects to distribution.
In France, ENGIE BiOZ initiates, develops, finances, builds and operates units for injecting biomethane into the gas grid, with a long-term commitment to local communities.
The energy produced is used to supply thousands of homes, thereby reducing CO2 emissions. At the same time, the Group adapts its infrastructures to biomethane injection, and develops efficient, low-carbon solutions at the end of its value chain (such as hybrid heat pumps for heating, or high-performance engines for land and sea mobility), enabling customers to support the greening of their consumption.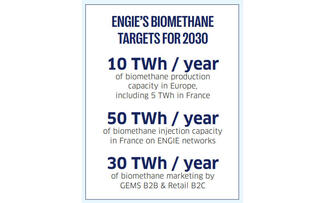 Second-generation biomethane projects
The projet GAYA, optimizing the use of forest residues

The platform produces biomethane from residues from the forest-wood sector. It mainly uses wood chips, enriched with a mixture of agricultural or industrial co-products: olive kernels, almond hulls, bark, or non-food straw. In order to reduce the carbon footprint, it is located close to gas transmission or distribution networks and large gas consumers such as boilers used for heating networks. The power sources are also within a radius of less than 50 km. It is a local process of recycling of waste into energy.
The Salamander project
CMA CGM and ENGIE will co-invest in the Salamander project to produce 2nd generation biomethane from forest residues and solid recovered fuels. The project will produce 11,000 tonnes per year of second-generation biomethane, with gradual commissioning in 2026, for a total investment of 150 million euros. This is the first step in a shared ambition to produce up to 200,000 tonnes of renewable gas per year by 2028, worldwide.
Hydrogen, a decarbonization gas pedal
To achieve a carbon-neutral future, ENGIE has launched an ambitious program to develop hydrogen production, transport, storage and distribution capacities. This gas can be produced from locally-established renewable energies, thus promoting short energy circuits and local jobs. Hydrogen is therefore the promise of a new technological, energy and industrial sector, both locally and globally, with new jobs at stake, essential for contributing to the circular economy.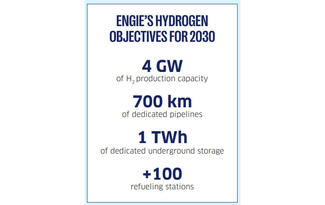 ENGIE is stepping up its commitment to hydrogen development, notably at the HyVolution trade show. The "MassHylia" project aims to develop, build and operate one of the largest renewable hydrogen production sites in France, in the Sud-Provence-Alpes-Côte d'Azur region.
ENGIE and biofuels
Biofuels are alternative fuels obtained from biomass, i.e. from non-fossil raw materials of plant, animal or waste origin. They emit 50% less CO2e than their fossil equivalents, making them a major asset in the decarbonization of liquid fuels.
In Valenton, Val-de-Marne, the "BioGNVAL" pilot project launched in March 2015 involves transforming sewage sludge from the Paris region into liquid biomethane, which can be used as a fuel for trucks. An ecological, economical fuel that guarantees a high degree of autonomy.