The Group positions itself regarding its customers, partners and society in general, as a player in the circular economy, by producing a renewable energy such as gas or electricity and underlying services, or by offering carbon-free solutions.
Context
Energy is one of the important flows of the circular economy. ENGIE is therefore at the heart of possible solutions for the preservation of resources, the reuse of energy such as biomethane production or heat recovery.
The diagram below illustrates the place of energy in the loop of the circular economy.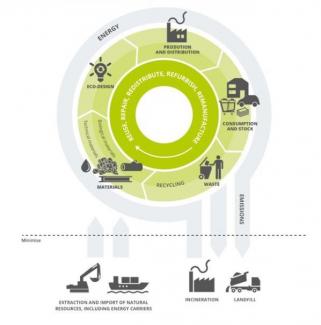 The commitments of the Group
On 1 February 2017, under the coordination of the AFEP (the French Association of Private Enterprises), the ENGIE Group, along with 32 other French companies, has undertaken three engagements to develop the circular economy:
Boosting renewable gases: biogas, first, second and third generation biomethane
Develop energy recovery on industrial and tertiary processes
Tooling innovatively to help decision-making process relating to circular economy in industrial zone
The circular economy in action
BE CIRCLE, innovative nature
BE CIRCLE has been developed within a European collaborative project as a service for industrial companies and their ecosystem. It aims to facilitate their transition to a circular economy.
Based on a modelling platform, the tool aims to:
develop synergies between businesses to save resources and make economic gains
decarbonize industrial activities
optimize the footprint
ENGIE Biogaz
Through ENGIE Biogaz, ENGIE Cofely offers an upgrading offer for biogas produced by scrubbing and injecting biomethane into the networks. This makes it possible to favor the circular economy by the valorization of the green gas.
The projet GAYA, optimizing the use of forest residues
The platform produces biomethane from residues from the forest-wood sector. It mainly uses wood chips, enriched with a mixture of agricultural or industrial co-products: olive kernels, almond hulls, bark, or non-food straw. In order to reduce the carbon footprint, it is located close to gas transmission or distribution networks and large gas consumers such as boilers used for heating networks. The resources are also within a radius of less than 50 km. It is a local process of recycling of waste into energy.
Companies in the industrial area south of Perth, in Australia, have chosen to work together to develop synergies and preserve the resources. The cogeneration plant operated by ENGIE in this area contributes to the establishment of a circular economy, particularly through the reuse of industrial water.