Stakeholder dialogue is part of ENGIE's development strategy. It is a key part of the Group's CSR policy, and one that lets us identify risks while simultaneously providing the resources we need to prevent, reduce, or compensate for the various business, social, and environmental impacts of the Group's work. Stakeholder dialogue is also part of the Group's business strategy, and contributes to our added value. It complements our environmental policy, with which it is closely coordinated.
ENGIE's "stakeholder dialogue" policy is made up of several components: a Group target, BU self-assessment, a toolkit, training programme, and operational support from the CSR Department.
1. A target for stakeholder engagement
Paragraph content
ENGIE has set a target: by 2020, 100% of our industrial activities will be covered by an appropriate mechanism for dialogue and consultation.
This target will make sure that the stakeholder dialogue policy is rolled out across the entire Group.

2. A self-assessment system for this target, implemented on a BU level
Paragraph content
Every year, every BU will assess its level of stakeholder dialogue, using the reference formulated for all of the Group's entities. This self-assessment reference is based on the AA1000 standard for stakeholder management, developed by the NGO Accountability, an international institution known in the CSR field. By applying the reference, we guarantee a standardized approach to all of the Group's activities.
The Group (CSR Department) will compile the data produced by each BU and provide the BU with a standard methodology to structure their stakeholder dialogue, respond to the reference's assessment, and aggregate data on a Group level.
The Group (CSR Department) assists the BUs in assessing the potential risks of engaging with previously identified stakeholders. Potential risks may include stakeholders refusing to engage with the company, stakeholders opposed to the company's activities or conflicts between stakeholders.
3. A toolkit designed with and for operational entities
Paragraph content
The toolkit is based on a six-step dialogue (Stakeholder Engagement), that includes actions like analysing the context for every situation and an exhaustive identification of stakeholders for the challenges in question, and the compilation, tracking, and impact assessment of an action plan. The process also becomes a management tool, by generating maps of stakeholders and associated engagement work.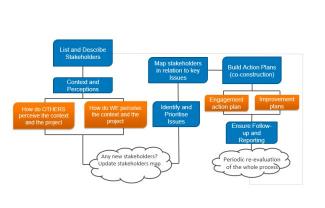 La boite à outils comprend aussi tout ce qui peut être nécessaire aux équipes opérationnelles dans leurs actions de dialogue comme par exemple des guides à la tenue de réunions communautaires ou la maitrise d'outils participatifs.
4. A training programme rolled out company-wide
Paragraph content
We have developed and rolled out a training programme within the company, for Business Developers (BD) and Project Managers (PM) in particular. The programme is also in place in almost every BU. What makes the programmes special is that they are tailored to each different professional and cultural context. They consist of a blend of interactive activities (80%) and academic presentations (20%).
The training workshops for the IPOS Department, Business Developers and Project Managers across the Group will run over two days, as described below.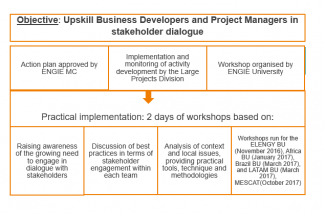 5. Operational support for Group entities
Paragraph content
The corporate team in the CSR Department operates as a centre for expertise, available to any Group entity that needs it.
To conclude, these tools and methodologies are what structures the Group's corporate and social responsibility initiatives, combining ambition and adaptability. Our ambition is to be the favourite company of our clients – local authorities, energy users, or industrial companies – who know that they can count on a responsible company that serves the community. This ambition is tailored to every region and every situation through the Group's policy, designed in partnership with our operational teams.