The Solar Impulse Foundation
 
When in 2016 Bertrand Piccard and André Borschberg managed to fly 40,000 km around the world in a solar-powered plane without using a single drop of fuel, it was a historic first and an unprecedented showcase for clean technologies and renewable energies. The echo of this technological success story among many governments, institutions, companies and celebrities around the globe prompted Bertrand Piccard to create the Solar Impulse Foundation.
 
The Foundation's objective is to bridge the gap between ecology and economy by reducing our impact on the environment while promoting economic development.
 
The Foundation has challenged itself to identify 1,000 clean, efficient and cost-effective solutions to encourage institutional authorities and other decision-makers to set more ambitious environmental objectives and energy policies.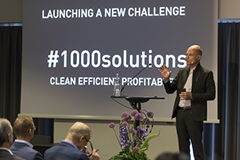 "Governments, companies and institutions must – as a matter of urgency – abandon their minimal targets and commit to far more ambitious environmental and energy policies, focusing their negotiations and action plans on what clean and profitable technologies can actually offer today. Not just for future generations, but for today's industry and for the planet and its inhabitants" Bertrand Piccard, President of the Solar Impulse Foundation
Alongside Bertrand Piccard, ENGIE's executives make a commitment:
On April 30, 2020, twelve business leaders, including Jean-Pierre Clamadieu, Chairman of the Board of Directors of ENGIE, committed themselves, in an article published in the French newspaper Le Monde, to implement very concrete actions to ensure a clean recovery of the world economy.

>> Coronavirus: "Clean and cost-effective solutions are a powerful lever for qualitative rather than quantitative economic growth".
On April 13, 2021, in a new article, 14 corporate leaders of the Solar Impulse Foundation, including Catherine MacGregor, CEO of ENGIE, ask companies and investors to understand how these solutions will make their operations more efficient and profitable, and to implement them.
A shared vision for a positive-impact partnership
 
Since 1 January 2017, ENGIE has been a partner of the Solar Impulse Foundation and sharing its expertise in helping to identify the one thousand clean, efficient and profitable solutions that the Solar Impulse Foundation is seeking.
 
This partnership came about quite naturally, since ENGIE and the Solar Impulse Foundation have a shared vision: they want to reconcile positive impact and economic performance.
 
On the one hand, guided by its raison d'être, "to act to accelerate the transition to a carbon-neutral economy through more energy-efficient and environmentally friendly solutions", ENGIE takes into account environmental and social impacts in the company's performance criteria in addition to the traditional economic criteria. On the other hand, the Solar Impulse Foundation wants to bridge the gap between ecology and economy by reducing the impact on the environment and promoting economic development.
The shared aim is therefore to pool such clean solutions and to speed up their development, reconciling initiatives to protect the environment with economic profitability.
The partnership was signed for a period of 4 years, until December 31, 2021.
 
To date, 20 ENGIE solutions have been approved by the Foundation: Solarimo, Targeo, Heliasol, Community Solar, Darwin, PowerCorner, District Cooling Systems, Tabreed Vertuoz Pilot, Livin', DERMS Mobile Storage, ELENA Piscines, FAST Charging, BIM PRICE.COM, BEEWE, La Belle Batterie, Charge&Go, EyeTech Remote Assistance, Solar Quest, BOXX.