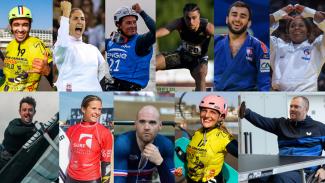 In the continuity of the Tokyo Games, ENGIE reaffirms its support for a dozen athletes in their preparation for the Paris Olympic and Paralympic Games which will take place in 2024.
Pierre Le Coq
Paragraph content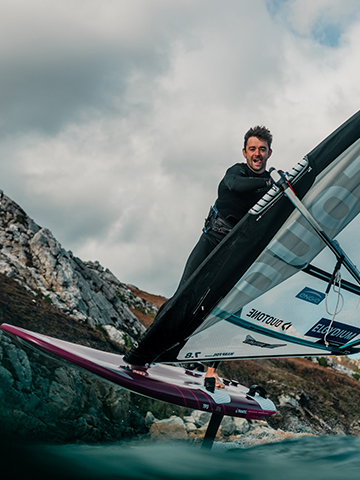 RS:X and iFoil windsurfing - ENGIE ambassador in Saint-Brieuc
Pierre Le Coq, 33 years old, is an ambassador for the Saint-Brieuc group and has been part of the ENGIE Team through the Performance Pact since 2016. He is a member of the Pôle France sailing centre in Brest and of the French Olympic team. The Breton athlete qualified for the only spot in RS:X for Rio in 2016 thanks to his RS:X World Championships victory in Oman at the end of 2015. His first Olympic appearance - in which he received a bronze medal - was a success.
Not only is Pierre le Coq a high-level athlete and a bronze medallist from Rio in 2016, he is also a dental surgeon, obtaining a diploma while preparing for the Olympics, thus ensuring his future professional reconversion. 
 
Following a hiatus from sports after Rio in 2016, he started training again in 2018 with the Olympics in mind. The bronze medal that he received during the first stage of the 2019 World Championships in Miami and the gold medal in the France Elite Championships are very promising. Unfortunately, he finished 6th at the 2020 World Championships in Australia (2nd in France), which is not enough for him to secure the only male spot for France at the Tokyo Games. The ENGIE Team champion has therefore set his gaze on a new objective for the 2024 Paris Games in which he will opt for a new format; the iFoil, an upgraded version of the RS:X board.
Awards
2022
14th in the World Championships – Brest (France)
9th at the iQFoil European Championship at Lac de Garde (Italy)
2021
7th at the RS:X World Championships
13th at the iQfoil World Championships
2020 
6th in the RS :X World Championship
2019
3rd in the RS :X World Championship
2018 
Winner of the Hyères World Cup Series (France)
2017
2nd at the World Sailing World Cup Series, Miami
2016
Bronze medallist at the Olympic Games in Rio
2015
World champion – Oman
World cup winner - Hyères (France)
Pauline Ado
Paragraph content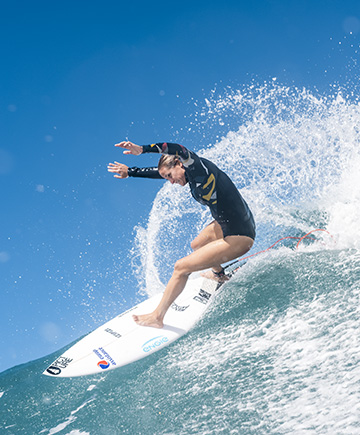 Surfing - ENGIE Ambassador: Biarritz / Anglet
Pauline Ado, 31 years old, member of the Anglet Surf Club, is one of the leading figures of women's surfing in France. She starts surfing at eight years old in Hendaye, in southwestern France, and begins competing at ten.  At 13, she joins the French youth teams.
With two World Junior Champion titles (2006 and 2008), Pauline Ado joins the exclusive circle of the WSL Championship Tour in 2011, a competition that brings together the top female surfers in the world. She comes in 9th in her first year of participation. In 2017 however, the Basque surfer adds two World Champion titles to her list of achievements. A team title and an individual title at the ISA World Surfing Games in Biarritz. She does all of this in her home region and in front of her family and friends. 
On the "World Qualifying Series" circuit, the competitions follow one another throughout the world. In 2019, the team ENGIE surfer wins two European titles in a row; in Caparica and in Zarautz. 
 
In 2020, Pauline Ado carries on with her efforts to qualify and gets off to a good start with a victory at the Cabreiroá Pro Las Americas in Tenerife (Spain) and a bronze medal in Newcastle during her Australian tour.
 
Following the 2021 World Championships in El Salvador, Pauline qualified for the Olympic Games and took part in surfing's first appearance at the Olympics After a well-deserved qualification to the 2nd round, Pauline had to go through the repechage in order to qualify for the finals. Unfortunately, due to difficult weather conditions such as strong lateral winds, the morning of the round of 16 did not go as she had planned. Despite a fierce performance, Pauline was not able to outperform the Australian Sally Fitzgibbons, 3rd in the world. Although she was hoping for greater results, this initial experience of the Games brought many valuable lessons and new motivations for the ENGIE Team surfer, now preparing herself for Paris in 2024.
A strong advocate of ocean protection, Pauline became a Surf Rider ambassador in order to defend the natural sites that she cherishes. Following the forest fires near Anglet in 2021, Pauline was quick to mobilise her community and act as a local ambassador to help the Ajudam Pignada association raise funds for reforestation.
Since 2009, Pauline has also been the sponsor of the Handi Surf association, her objective being to pass on her passion and ensure that surfing is accessible to all people with disabilities. 
Awards
2023
European Vice-Champion
2022
2nd in the World Championships
2021
Participation in surfing's first appearance at the Olympics
6th at the ISA World Championships in El Salvador and World Champion in the team event
2020
3rd at Surfest Newcastle / 2nd Victory at Cabreiroá Pro Las Americas in Tenerife (QS 1500)
2019
Victory at Cabreiroá Pro Zarautz (QS 1500)
2018 
7th at the ISA World Surfing Games
2017
Nations World Champion / ISA World Champion
2013
9th at the WSL Championships
2009
Junior World Champion
Élodie Clouvel
Paragraph content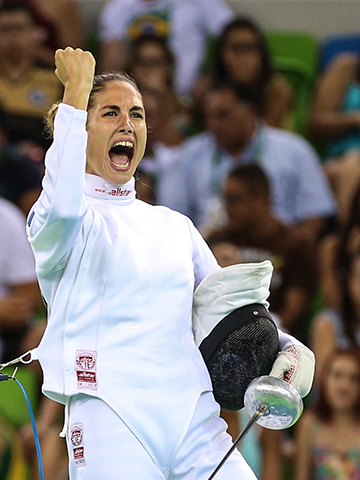 Modern Pentathlon (5 disciplines: Fencing, Swimming, Running, Pistol shooting, Show Jumping) - ENGIE Ambassador: Saint-Etienne
Thirty-three year-old, Elodie Clouvel is a member of the Perpignan La Catalane club, silver medallist in Rio in 2016 and currently the world champion in modern pentathlon.
Elodie began her career as a swimmer: a member of Pôle France at Font-Romeu-Odeillo-Via, she was then coached by Philippe Lucas in Canet-en-Roussillon. In 2008, at the French Swimming Championships, she just missed out on qualifying for the Olympics in Beijing.
Elodie then decided to focus her attention on the Modern Pentathlon, and joined INSEP in September 2008. In 2010, she won the bronze medal at the French Championships, the Junior World Championships and the European Team Championships. The following year, she became French Champion for the Modern Pentathlon, and finished third in the final round of the World Cup, which took place in London.
When she opted for the modern pentathlon, Elodie discovered a discipline that combines five military skills and joined the army of champions. Most of her horse-riding practice took place with the French republican guard, where she was initially a brigadier-in-chief, then a sub-lieutenant, before being promoted to the rank of lieutenant, in a demonstration of her loyalty to the French gendarmerie. She is also a sponsor of the "Gendarmes de Cœur" association, which helps members of the gendarmerie affected by illness, disability or the loss of a loved one.
On March 17, 2012, she won the World Cup in Rio and qualified for the London Games.
She also qualified for the Rio 2016, taking silver, which was the first individual Olympic medal for France in the Modern Pentathlon.
After her Olympic success, she struggled to return to competition, with results that failed to match the Team ENGIE athlete's own high expectations.
But through sheer hard work and determination, Elodie has made progress year after year, and her target is a gold medal in the Games.

 
In 2021, Team ENGIE's athlete became World Vice Champion in Cairo (Egypt), winning a silver medal and booking her place in the Tokyo Olympics!
Despite her Olympic experience in Rio, Elodie Clouvel could only secure sixth position in the Tokyo Games. After some difficulties on the first day with the fencing event because of a problem with her heel, the Team ENGIE athlete began her second day in only 24th place. Thanks to her previous experience as a professional swimmer and her competitive spirit, Elodie managed to climb up a few places in the general ranking after securing third place in the 200 m freestyle swim. With a lot of momentum, she was able to begin the show jumping with a little more peace of mind. Before the laser run, the Saint-Etienne ENGIE ambassador had a 25-second handicap to make up. Unfortunately, Elodie's very best efforts were not enough. Although she did manage to climb up two places in the last event and finish in sixth place in the overall ranking – better than any of her teammates.
In 2022, Elodie proved that she remains one of the best pentathletes in the world by winning the World Cup final in Ankara (Turkey). This performance is more than encouraging for the Team ENGIE athlete's forthcoming events. 
Awards
2023
6th at the UIPM 2023 Pentathlon World Cup in Ankara (Turkey)
2nd at the UIPM 2023 Pentathlon World Cup in Cairo (Egypt)
2022
World Champion in Ankara (Turkey)
2021
Sixth in the Olympic Games in Tokyo
Runner-up in the World Championships in Egypt
2020
3rd in the Indoor Meeting in Budapest, Hungary
2019
6th in the Modern Pentathlon World Championships in Budapest, Hungary
2018
13th Women's Individual World Championships in Mexico City, Mexico
2017
26th Women's Individual World Championships in Cairo, Egypt
2016
Olympic silver medalist at the RIO Games 
Runner-up in the World Championships in Moscow (Russia)
2015
Runner-up in the European Championships in Bath (Great Britain)
2012
First participation at the London Olympics (ranked 31st)
Take a look at a "typical training day" with Team ENGIE member Elodie Clouvel! 
Madeleine Malonga
Paragraph content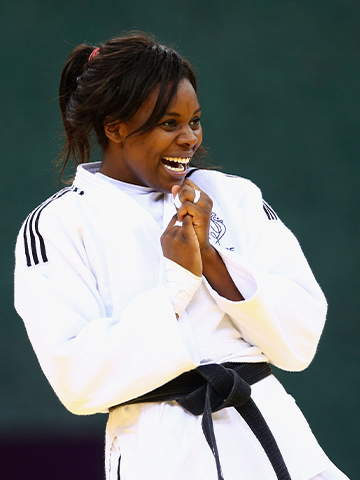 Judo - Ambassador ENGIE in Chambly
Madeleine Malonga, 29 years old, is a member of the Etoile Sportive Blanc Mesnil Judo club, as well as France's National Institute of Sport, Expertise, and Performance (INSEP) and the French judo team.
Competing in the under 78 kg category, she began judo at the FJEP-Chambly club before furthering her athletic career at Judo Amiens Métropole Picardie.
 
Seen as a future great prospect of French judo, she joins INSEP in 2010 to continue her development before joining the Levallois Sporting Club in 2013. She becomes champion of France in the under 78 kg category in 2014. The French judoka continues to grow in strength, adding two Grand SLAMs in 2015, in Samsun and Baku, to her list of victories. Madeleine also wins the team gold medal at the European Championships with the French team. In parallel to her training and competitions, Madeleine joined the Institut de Formation en Soins Infirmiers (IFSI) at the St Maurice National Hospital to become a paediatric nurse. She put her training on hold for a while to devote herself fully to her sporting career.
 
In 2017, she builds up her experience to perform at the highest international level, participating in the St Petersburg Masters where she finishes second. She then becomes the European Champion in Tel Aviv in 2018.
 
The 2019 season starts well for Madeleine with a first victory at the Grand Slam in Paris, subsequently reaching her highest level in August as a World Champion in Tokyo. With the support provided by Group, the judoka continues her work and starts off 2020 the same way she did in 2019 - with a victory at the Paris Grand Slam.
 
Madeleine begins 2021 by confirming her status as world champion in under 78 kg, winning the Doha Masters, the only one organised due to the pandemic. This victory allowed her to compete in Tokyo. A few months later, Madeleine did not manage to retain her world championship title won in Tokyo in 2019, but she still reached the second step of the podium. 
The Tokyo Games were a success for Madeleine Malonga, who won two fine medals in her first participation in an Olympiad. She won gold in the team event and silver in the individual event! 
While pursuing her career as a top-level athlete, Madeleine qualified as a mental coach, as well as a life coach course at HEC Paris – a new stage in her personal and professional life from which she will doubtless learn a great deal. 
Awards
2023
2nd at the Austrian Grand Prix
3rd at Astana Grand Slam
2nd at the Grand Slam of Tel Aviv
2022
3rd place at Paris Grand Slam
2021
Olympic champion in the mixed team event
Olympic runner-up
Winner of the Doha Masters (Qatar)
World runner-up in Budapest
2020
Paris Grand Slam winner / European Champion in Prague
2019
World Champion in Tokyo (Japan)
Paris Grand Slam winner
2018
European Champion in Tel Aviv (Israel)
Zagreb Grand Prix winner (Croatia)
2017
Champion of France in St-Quentin-en-Yvelines
2016
Samson Grand Prix winner (Turkey)
Discover a "typical training day" with Madeleine Malonga, member of Team ENGIE!
Luka Mkheidze
Paragraph content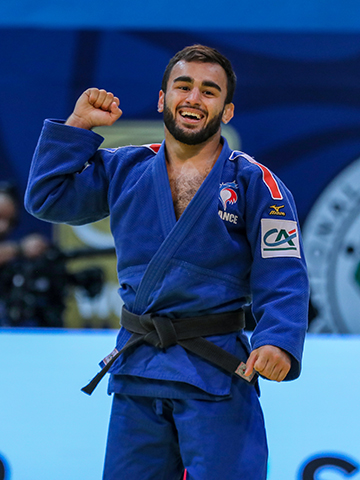 Judo - ENGIE Ambassador in Le Havre
Luka Mkheidze, 27 years old, is a member of the Sucy Judo club and a member of the French judo team. Since 2017, he has been a member of INSEP, France's National Institute of Sport, Expertise, and Performance. He won a bronze medal in the under-60 kg category at the Tokyo Olympics and he dreams of doing even better in a few months' time. 
Before arriving at this victory, Luka had to leave his native country, Georgia, at the age of 13, following the war with Russia. He arrived in France, in the Val-de-Marne, on 10 March 2010 with the help of a smuggler. He and his family were then sent to a home with other refugees in Le Havre. Both talented and motivated, he joined the Le Havre judo club and, as such, benefited from the intervention of Prime Minister Edouard Philippe, who was at the time the mayor of Le Havre, to obtain French nationality in 2015.
 
Brimming with potential, Luka's sporting career was now ready to take off. Following the Pôle Espoir de Rouen training centre, the judoka arrived in Sucy in 2016 and joined the INSEP one year later.
 
Since 2017, Luka has been regularly participating in major international, continental and national events. In 2017, he took 2nd place at the European Cup in Malaga and Dubrovnik, and became Junior Champion of France. In 2018, he won the Madrid Open and claimed silver in Cancun and Minsk before also becoming Champion of France through his team in 2018 with Sucy.
 
The start of 2021 was punctuated with several victories for Luka. After winning a bronze medal at the Tashkent Grand Slam, the Team ENGIE judoka became European runner-up in Lisbon. These wonderful performances helped him stand out and qualify. In Tokyo, Luka kicked-off with a spectacular victory against Spain's Francisco Garrigos, an adversary to whom he had lost in the final of the European Championships in April. He then went on to the next round where he outperformed the Ukrainian Artem Lesiuk. In the semi-finals, he unfortunately loses in the golden score round to the Taiwanese Yung Wei Yang in an extremely tough fight. Although exhausted, Luka's strong spirit - which he had developed since his youth - allowed him to quickly recover and dominate Korea's Kim Won-Jin a half hour later in the match for 3rd place. After fleeing the war in Georgia, Luka arrived in France in 2010, and moved the whole nation by winning the French delegation's first medal.
The 2021 European vice champion and bronze medal winner at the Tokyo Olympics was not able to compete in the 2022 European Championships. This is because just a few weeks before they started, during a course with the France team in Mongolia, the Team ENGIE judoka suffered a torn cruciate ligament in his right knee, forcing him to return to France immediately. Luka underwent surgery and was monitored by a physio for his rehabilitation. 
Luka was very stoical about this injury: "Obviously it's very difficult for me to be so far away from the mats for such a long time, but that's just the way it is. I have to accept it and deal with it. I keep telling myself that there are far more serious things in life and this is just sport".
Luka returned to the mat at the end of January with some very encouraging performances for the rest of the season.
Awards

2023

1st at the Grand Slam of Antalaya
1st at the Grand Slam of Tel Aviv
3rd at the Grand Prix of Portugal
2022
3rd place at Paris Grand Slam
2021
Bronze medal at the Olympics
3rd at the Tashkent Grand Slam (Uzbekistan)
2nd at the European Championships in Lisbon (Portugal)
2020
3rd at the Budapest Grand Slam
2019
2nd at the European Club Championships team event    
3rd at the European Open Seniors individual event - Luxembourg
7th at the European Seniors Championships - Minsk (Belarus)
2018
2nd at the Cancún Grand Prix (Mexico)
2nd at the Minsk Continental Open (Belarus)
3rd at the Sofia Continental Open (Bulgaria)
1st at the European Open in Madrid
2017
2nd at the Malaga European Cup (Spain) and Dubrovnik (Croatia)
3rd at the European Open in Bucharest 
2nd at the African Open
See how Luka is managing his rehabilitation in pictures: 
Wilfried Happio
Paragraph content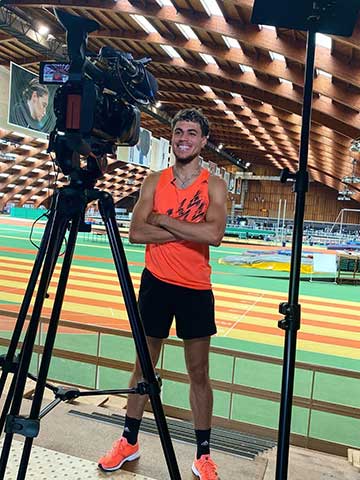 Athletics – ENGIE Ambassador at Lille Métropole
24-year-old Wilfried Happio, from Bourg-la-Reine in the suburbs of Paris, is a French 400-meters hurdler.
One of the great hopes of French Athletics, he finished twice on the podium at the 2017 European Junior Championships in Grosseto, Italy, winning the 400m hurdles and taking silver in the 4x400m.
 
Following these early successes, he went on to win several titles in his favorite event, the 400 meters hurdles:
•    French Champion in 2019 (Saint Etienne, France)
•    European U23 Champion in 2019 (Gävle, Sweden)
•    Participation in the World Championships in 2019 (Doha, Qatar)
 
In November 2019, he joined the Lille Métropole Athletics club (LMA) and he became French Elite Champion for the first time. The ENGIE Team athlete will not stop on this victory as he will keep his French Champion title in 2020 and in 2021 during the French Athletics Championships in Angers (49). Great performances that allowed him to stand out and to get his precious sesame for Tokyo. An accolade for this extremely promising young man in French athletics who was not prepared to wait until 2024 for his first taste of the Olympics.

For his first Olympic Games, Wilfried Happio ranked fifth (49:39), which opened the doors of the semi-finals for him. Unfortunately, competition in the finals was just a little too stiff for the ENGIE ambassador from the Lille area.
In 2022, the young athlete from Team ENGIE continues to progress. During the French Athletics Championships held in Caen (14), he retained his French championship title for the 4th consecutive year by beating his personal best in 48''57, which opened the doors to the World Championships in Eugene (Oregon- USA).

As proof of his meteoric progress, Wilfried finished 4th in this World Championship, two hundredths of a second from the podium. He once again beat his personal best with a time of 47''41, only four hundredths off Stéphane Diagana's French record, the second best French performance of all time.
Only a month later, Wilfried made a name for himself again with his performance as European vice-champion in Munich.
 
Awards
 
2022
European vice-champion in Munich (Germany)
4th at the World Championships in Eugene (Oregon - USA)
French Champion
2021
Participation in the Tokyo Olympic Games
French Champion 
2020
French Champion / Winner of the Palio Citta Della Quercia
2019
U23 European Champion
French Champion
2018
U20 European Champion 
Fabien Lamirault
Paragraph content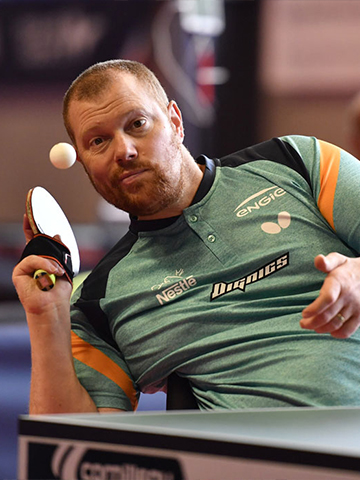 Table tennis – ENGIE ambassador in Marseille
Fabien Lamirault, 42 years old, married with three children and originally from Nans-les-Pins (Var). He is a French para-table tennis player.
At 17, Fabien became a quadriplegic following a car accident. Athletic by nature, he discovers table tennis while in rehabilitation. Fabien very quickly finds his calling: once his rehabilitation completed, he joins the CSINI (Cercle Sportif de l'Institution Nationale des Invalides de Paris) where he meets his current coach, Fabrice Kosiak.
He takes part in his first international competition in Sicily in 2003. Although he is held back for a few years due to administrative complications around the recognition of his correct disability category (class 2), Fabien did not lose hope. Categorised in class 2, his Paralympic adventure will only begin in 2012 at the London Games, where he wins a bronze medal in singles and a silver medal in doubles.
From that moment on, Fabien was on the road to success: double World Champion in 2014, then double European Champion in 2015. The following year, the Rio Games saw him become the double Paralympic Champion, where he won a gold medal in the individual competition and in the team event. Selected for the Tokyo Games, the Team ENGIE athlete retained his Paralympic Champion title, once again winning a gold medal in the individual competition and in the team event! 
In 2022 Fabien won gold at the class 2 para table tennis world Championships in Granada. With this third world title under his belt, Fabien has confirmed his place as a top-ranking athlete in his category. For his 4th potential participation, his aim will be to retain his Paralympic title for the third consecutive time after the Rio and Tokyo Games. This would be a true feat and would gain him a highly deserved entry into the pantheon of French sport.
 
 
Prize list
2023:

French champion in men's singles (class 2)
French vice-champion in seated mixed doubles
Victory at the ITTF Costa Brava Spanish Para Open

2022: Individual World Champion
2021: Double Paralympic Champion in Tokyo (singles and team) and elite individual French Champion
2019: Double European Champion (singles and doubles)
2018: World Champion (singles)
2017: World silver medallist in doubles 
2016: Double Paralympic Champion in Rio (singles and doubles)
2015: Double European Champion (singles and doubles)
2014: Double World Champion (singles and doubles)
2013: European Champion in doubles
2012: Bronze medal in singles and silver medal in doubles at the Paralympics in London.
Find out what a typical day's training looks like with Fabien Lamirault 
Axel Mazella
Paragraph content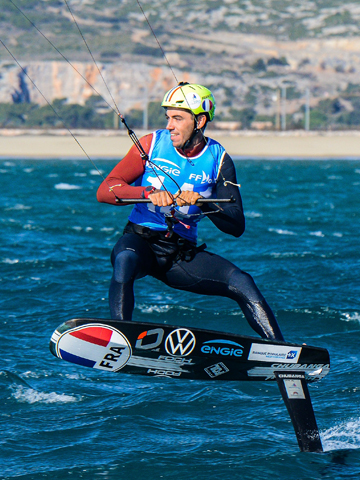 Kiteboarding – ENGIE ambassador in Toulon
Axel Mazella, 25 years old, is from Toulon (Var) and is a member of the France Kite surfing foil team. Alongside his career as a top-level athlete, Axel recently graduated as a physiotherapist.
He is currently showing a great deal of promise on the French kite surfing circuit, has just won the European Kitefoil Championships for the third time and is the Gold Cup World Champion.
Before ramping up his performance, Axel made his mark on the ENGIE Kite Tour on the French speed crossing circuit. He started competing in it in 2013 and won the circuit three years in a row. 
2021 was a year brimming with victories for the Team ENGIE athlete: he won the European Championship title, as well as the World Vice Champion title, among others. 
Although he did not succeed in retaining his European title, Axel did manage to secure a magnificent bronze medal in the 2022 World Kitefoil Championships – clear evidence of his champion temperament.
Kite surfing will make its debut as an Olympic discipline at the Paris 2024 Games. It will be a fantastic opportunity for him – he now wants to qualify and win a medal. 
Achievements
2023:

Kite and Wing Challenge winner
World Cup winner in the Netherlands
3rd at the World Cup in Palma de Mallorca

2022:

3rd in the World Kitefoil Championships
2nd in the ENGIE Kite Tour

2021:

Winner of the ENGIE Kite Tour
Vice World Champion
European Champion 
Winner of the Mondial du Vent in Leucate (individual and mixed relays)
Winner of the Kitefoil World Series
Winner of the Formula Kite Spain 

2020:

European Champion
Winner of the ENGIE Kite Tour

2019: 

European Champion
Winner of the ENGIE Kite Tour 
Winner of the Kitefoil Gold Cup
Winner of the Défikite

2018:

6th in the World Kite Championships
4th in the French Championships 

2017:

Vice World Champion
European Vice Champion
Raphaël Beaugillet
Paragraph content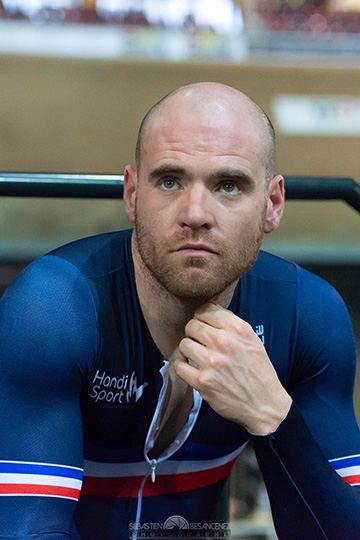 Tandem Track Cycling – ENGIE ambassadors in Blois.
Raphaël, 33 years old, gradually began losing his sight at the age of 20 due to a genetic disease that put an end to his masonry training and his ability to work. A keen football fan, Raphaël turned his attention to running and tandem cycling when he starts to lose his sight began 11 years ago. "Very soon, tandem took over because a neighbour offered to take me out cycling. I accepted in order to "see", no pun intended, something different and stop going round in circles, and I got caught up in it," he said. Raphaël soon started collecting wins, and has now been crowned French Champion a total of 22 times (8 on road and 14 on track). 
In March 2020, Raphaël took on the challenge of participating in the Tokyo Paralympic Games in the kilometre standing start in tandem with François Pervis as pilot. At 37, François is a key figure in French track cycling world. His track record speaks for itself: 7 world championship titles (including 4 in the kilometre event), bronze medallist at the Rio Games in 2016, world record holder in the kilometre time trial.

The postponement of the event was a blessing for Raphaël and his pilot François, because it allowed them to train for an extra year. On 28 August, the Team ENGIE para cyclist tandem pair won a brilliant bronze medal that rewarded the magnificent preparation of this duo, who have been practising together for just 18 months. 
The French pair completed the four laps of the track in 1'00''472, at an average speed of almost 60 kph, setting a new personal best. It was a great Paralympic debut for Raphaël, and a fantastic way for François to end his career, by becoming the fourth-ever athlete to win a medal in both the Olympic and the Paralympic Games.
In 2022, Raphaël teamed up with a new pilot – Quentin Caleyron. It was a good year for the tandem pair: they won the French Championship title in the omnium sprint and came forth in two events at the Mondiaux de paracyclisme (kilometre and speed). They also set a new record, covering 200 m in 10.036 seconds. Encouraging results for this young tandem pair.
Raphaël now has his sights set on a new consecration with his new pilot Quentin Caleyron!
3 Tandem Prize List with Quentin Caleyron
Victory at the French Championships
The tandem's achievements with Quentin Caleyron in 2022
4th in the Mondiaux (kilometre and speed)
France champions in the omnium sprint (speed, 200 m and kilometre)
France vice champions in the pursuit
The tandem's achievements with François Pervis in 2021
Bronze medals at the Tokyo Paralympic Games in the standing-start kilometre
Three French disabled sport championship titles (speed, pursuit and kilometre) in 2021.
Raphaël's achievements
World Para-duathlon Champion in 2012
22 French Championship titles (8 on road and 14 on track)
4th in the World Track Cycling Championships
Poema Newland
Paragraph content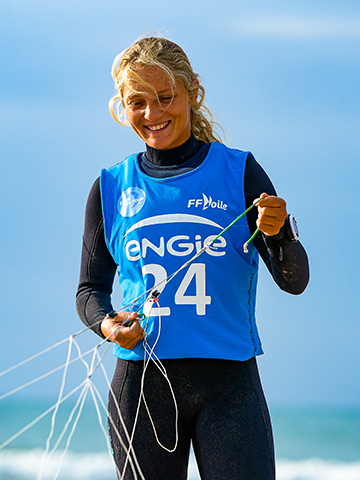 Kiteboarding – ENGIE ambassador in Leucate and Narbonne (Aude)
Poema Newland, 23 years old, is from Narbonne (Aude), and is a member of France's women's kite foil surfing team. Alongside her training as a top-level athlete, Poema is doing a degree at Sciences Po in Paris.
When she started kite surfing in 2015, quickly established herself as a promising young athlete on the French kite surfing scene.
Three years later, she won a silver medal in the Youth Olympic Games in Buenos Aires (Argentina) and ranked third in the 2020 French Kitefoil Championships.
For many years now, Poema has been climbing up through the ranks on the ENGIE Kite Tour – the leading French speed crossing event – and will obviously be taking part in the stages of the 2023 edition. At the same time, she regularly takes part in and performs at major international competitions, such as the Mondiaux and the European Championships.
Last year was more nuanced – despite her finishing in sixth place in the last World Championships. 
Kite surfing will make its debut as an Olympic discipline at the Paris 2024 Games. It will be a fantastic opportunity for her – she now wants to qualify and win a medal.
Prize list
 
2023
3rd at the World Cup in Palma de Mallorca
2022
6th in the World Kitefoil Championships
7th in the European Formula Kite Championships
French vice elite kiteboard champion
9th in the World Cup
2021
4th in the world individual formula kite championships 
European formula kite champion
Winner of the Kitefoil World Series
Winner in the mixed relays and 2nd in the individual event at the Mondial du Vent in Leucate (individual and mixed relays)
2020
3rd in the French Kitefoil Championships
French Hope Champion in Twintip Racing
9th in the European Formula Kite Championships
2019
11th in the European Formula Kite Championships
15th in the mondiaux
French vice Kitefoil Hope champion
2018
French Champion
Vice champion in the Olympic Youth Games
2017
5th in the European Championships