Why create a label for renewable energies?
Urgent action is needed! As the latest IPCC (Intergovernmental Panel on Climate Change) report reminded us in spring 2022, it is essential that action is taken now to keep the temperature increase within an acceptable limit. In this context, renewable energies are a source of hope. As France's leading producer of wind and solar power, ENGIE wants to accelerate the development of renewable energies, aiming for an installed capacity of 80 GW in 2030, compared with the current 34 GW. The TED label for a sustainable energy transition was created for this purpose. It aims to demonstrate, with total transparency manner, that the projects implemented by ENGIE are both rigorous and sustainable, to encourage as many people, citizens and local authorities as possible to accept them.
Discover the launch video of the TED label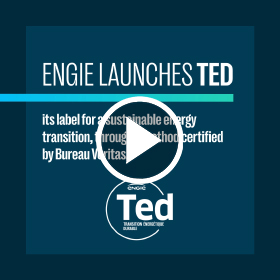 What does this label for renewable energies apply to?
All projects related to renewable energies will be audited by independent Bureau Veritas experts from June 2022. This involves the application of a strict reference system comprising nine commitments covering three main themes: territories, nature and climate. (See details below.) These 9 commitments are the foundations of our method, which guarantees the following, in particular: 
Involving stakeholders in the projects 
Preserving nature around the installations 
Optimising the projects' contribution to the fight against climate change
How is this label for renewable energies actually applied in practice?
For the moment, TED only concerns wind and solar projects developed in France, but we are working to get it to be used as a reference worldwide and to extend it to biomethane projects. In practice, Bureau Veritas auditors will be starting the first certification audits in June 2022. They will then perform detailed and rigorous monitoring actions, in an equally independent manner, to ensure lasting respect of the label's criteria. 
A step towards an ever more sustainable energy transition.
Want to find out more?