ENGIE attaches the highest importance to health, safety and security. The protection of individuals is deeply embedded in the Group's DNA. Our collective objective is "No life at risk" at ENGIE, for the Group's employees as well as for its temporary workers and subcontractors.
Our goal: No life at risk
Personal safety is a top priority for ENGIE, which seeks to reduce the frequency rate and severity rate of accidents, both for employees of the Group and those of subcontracting companies. ENGIE's ability to operate safely and reliably around the world is the foundation of both its operational excellence and economic performance. This is why the Group is committed to the "No Life At Risk" approach to achieve its target of zero fatal accidents.
ENGIE's "No Life At Risk" policy is based on four pillars that apply to everyone, whether they are employees or subcontractors:
Life Saving Rules: 9 fundamental rules to be respected by everyone, everywhere.
The Breakpoint: if you're not as safe as you could be, say STOP! It's everyone's duty for the sake of everyone's safety.
Identifying HIPOs: a HIPO is an event with High Potential for causing death or serious injury. Identifying and analyzing HIPOs contributes directly to preventing risks.
Shared Vigilance: employees, subcontractors and temporary workers must be vigilant for each other, for their own safety and that of others.
> Check out ENGIE's Life Saving Rules
> See the ENGIE brochure, Preventing serious and fatal accidents
Health-Safety Risk Mapping
The Health & Safety risks are regularly reviewed by the business units and entities to take into account changes in the Group's business lines and experience feedback from accidents at work.
The entire system for dealing with these risks is presented below (see: "Shared Policies").
Several provisions are implemented to monitor treatment measures: audits of health & safety management systems, health & safety internal control referential filled-in every year, annual health & safety management reviews.
Shared policies
ENGIE has set up a policy of excellence to ensure the best possible working conditions for Group employees around the world. In this purpose, the Group has set policies, signed European and global agreements and defined a framework and rules to make everyone, top executive, manager or employee, a committed player in one's health and safety.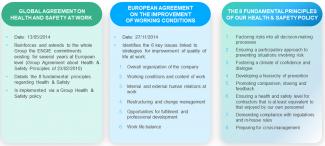 This highly structured process of continuous improvement is intended to enable the Group to achieve the goal of excellence it has set itself: no life at risk, whether for Group employees, temporary workers or subcontractors. The policy has been interpreted in operational terms in the Group's Health & Safety Action Plan.
> Read ENGIE's Health & Safety Action Plan 2016-2020
Permanently raising awareness, for all
ENGIE is committed to implementing all necessary means to achieve its collective objectives of zero serious or fatal accidents, reduction of accidents at work and improvement of the quality of life at work.
Training and education
H&S training courses are among the Group's most widely followed training modules, whether broad-based Group programs (e.g. Health & Safety Leadership) or focusing on specific business activities or practices in the entities.
Supplementing compulsory training modules, significant e-learning resources are available for all Group employees.
Information and communication
ENGIE ensures that its ambitions, policies and results with regard to health, safety and security are circulated to all Group employees, along with details of training programs available in these areas.
Each year, an H&S-related topic is selected at Group level and features in an annual education campaign in all entities (e.g. preventing serious and fatal accidents for subcontractors in 2018, the breakpoint in 2017, falls from height in 2016, using a mobile phone while driving in 2015, etc.).
ENGIE provides members of the Global Care community with knowledge and gives them access to specialized and technical information through monthly webinars, dedicated SharePoint, internal réseaux social networks, etc.
To ensure that subcontractors have easy access to the Group's accident prevention measures, ENGIE publishes all its public domain documents in the Health & Safety space in the Group's virtual library.
Our results
Within the Group, health & safety results are constantly monitored and published quarterly. The quarterly results are circulated to all Group employees, directly via line managers and by way of internal communications channels (intranet, company social networks).
The Group's General Management is closely involved: HIPOs (situations with HIgh POtential for causing death or serious injury) are monitored on a weekly basis by ENGIE's Executive Committee, and each month one of its members carries out a managerial safety tour of one of the Group's sites.
ENGIE publishes its workplace health & safety commitments and results in the annual Registration Document.
Sharing vigilance with our subcontractors
The special attention paid by ENGIE to health, safety and security and the Group's target of zero fatal or serious accidents extend to subcontracting companies.
Group contracts include contractual obligations in these areas and specify measures for assessing and managing risks, for site surveillance, and for the evaluation of health & safety performance.
We encourage employees and subcontractors to be vigilant alongside each other with the aim of protecting all lives, without distinction.
> Consult the ENGIE supplier portal
If you have any questions about health, safety and security, you can contact global-care@engie.com