The Group's health & safety vigilance approach
For ENGIE, health & safety is a top priority. Protecting everyone's life is at the heart of our socially responsible business action. ENGIE's collective objective is NO LIFE AT RISK, NO MIND AT RISK for everyone: Group employees, temporary workers, subcontractors and stakeholders.
A. Risk mapping
The mapping of health & safety risks is done as close as possible to the field by each entity, according to its activities and geographic locations. These risks are indeed very marked by the businesses and the environment in which they are carried out, and specific to each entity.
They are subject to periodic reviews in order to take into account all the changes in the businesses and the feedback from near-misses and work accidents.
The most serious accidents that have occurred within the Group relate to work at height, electrical work, lifting activities and road risks. These risks are the subject of training and specific awareness-raising (authorizations, guidelines, communication actions, etc.) as well as specific prevention rules.
B. Assessment of subsidiaries
The Group's Health & Safety Rules apply to all entities for which ENGIE holds operational management, regardless of their method of financial consolidation, in addition to the business rules issued by the subsidiaries. Various measures have been put in place to assess compliance with these rules by Group employees and subcontractors, as well as the control of health and safety risks. Safety visits are performed by managers, audits and inspections make it possible to assess the compliance of practices with the standards in force, risk reviews are held periodically, internal control questionnaires are completed each year, health & safety management reviews are held annually, audits of health and safety management systems are carried out.
In addition, Group entities are subject to internal audits by the Group Audit Department. These audits systematically include compliance with ENGIE's health & safety systems. Thematic audits can also be organized.
The Group's entities also conduct their own audit programs in addition, based on identified health & safety risks, or as part of a certification process for the entity's occupational health & safety management system (e.g. OHSAS 18001 certification, MASE certification in France or VCA in Belgium).
The industrial safety of the facilities in which the Group operates is under close attention through the implementation by the subsidiaries of dedicated management systems and specific investments. Audits of these sites are carried out regularly. ENGIE's Insurance Department therefore defines an annual audit program for the Group's industrial assets, which is entrusted to specialized external service providers. These audits specifically target the risks of fire, machine breakdown and natural disasters. The aim is to visit the Group's most important industrial assets at least once every 3 years.
External audits can also be carried out by local public authorities, depending on the applicable regulations (e.g.: periodic audits of so-called Seveso industrial installations in Europe, depending on the potential risks for goods, people and the environment).
C. Group health & safety policy
ENGIE has implemented a policy of excellence to ensure the best possible working conditions for Group employees around the world. To do this, the Group has set policies, signed European and global agreements, and defined a framework and rules to make everyone, leader, manager or employee, a committed player in their health & safety.
The Group has set itself ambitious objectives which are unique in that they concern everyone working for the Group, employees and subcontractors. They bear witness to our determination to do everything possible to eradicate workplace accidents, in particular the most serious of them.
a) Commitments
The ENGIE heath & safety policy details the 8 fundamental principles of the Group regarding Health & Safety:
Taking risks into account in any decision-making process
Participatory approach to the prevention of hazardous situations
Promotion of a climate of trust and dialogue
Classification of prevention
Inter-comparison, sharing and feedback provision
A prevention and protection level to our service providers equivalent to that of our employees
Compliance with regulations and internal rules
Crisis management preparation
These commitments, made by ENGIE for many years at European level within the framework of the Group Agreement on fundamental health and safety principles of 2010, were reinforced and extended from 2014 to the entire Group, by the Global Agreement. on health and safety at work concluded with employee representatives.
b) Risks management
The Group's health & safety principles and commitments are implemented within the framework of five-year action plans, to target the Group's priority health & safety actions, whether they are those successfully developed and which are to be continued, or news to be initiated to fuel our dynamic of sustainable progress.
Our 2021/2025 Health & Safety action plan aims at the overall protection of our employees and subcontractors, by covering all risks: prevention of risks directly linked to the performance of activities (health & safety at work: NO LIFE AT RISK), prevention of risks linked to the context of execution of activities (development of the quality of life at work and prevention of psychosocial risks: NO MIND AT RISK) and prevention of industrial risks (NO ASSET AT RISK).


c) Prevention of serious and fatal accidents
In accordance with the Group's Health & Safety Policy, the prevention of serious and fatal accidents is based on a prioritization of risk prevention aimed at implementing, in order of priority:
measures eliminating risks at source
organization and collective protection measures
individual protection measures.
The protection measures deployed by the Group to contribute to the ambition of "NO LIFE AT RISK" are:
The nine Life Saving Rules, to be observed in all circumstances and by all.
The systematic identification, analysis and treatment of high potential severity events ("HiPo"), precursors of serious accidents.
Operators must stop their activities if all the safety conditions are not met ("Stop the work" approach).
Before any intervention, operators must carry out a last minute risk analysis ("the saving minute"), which consists in carrying out a new and final risk assessment in the field in order to ensure that they are under control.
Finally, the Group also expects its employees to pay attention to the safety of all other people, regardless of their status: colleagues, temporary workers, subcontractors, etc. (so-called "shared vigilance" system).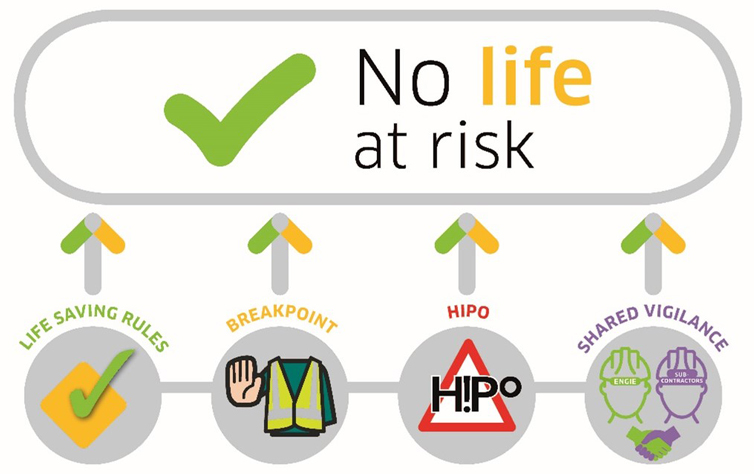 > See the ENGIE brochure, Preventing serious and fatal accidents
d) Monitoring of results
Health & safety results are subject to operational monitoring through:
A health & safety reporting system incorporating reactive indicators (focused on the occurrence of accidents) and proactive indicators (making it possible to monitor the situation of entities before accidents occur).
The internal control process, several of which are devoted to occupational health & safety and industrial safety and which make it possible to ensure the effectiveness of the deployment of Group health & safety policies and rules in the entities. The various risk components and health & safety dimensions are covered by the processes devoted to industrial projects (IND1), operational industrial processes (operation & maintenance, IND2-IND3), industrial control system safety (IND4), crisis management and communication (COR5) and occupational health and safety / safety (COR8).
Managerial monitoring, during the annual Global Care review of each entity, between the manager and the health & safety managers of the entity, and the Group Global Care Department. During this review, the entity presents for the past year the evolution of its activities and risks, its health & safety results, the actions implemented, as well as its objectives, quantitative and qualitative, for the coming year.
Certification by the auditors, upstream of their annual publication in the Universal Registration Document.
Presentations and discussions:

with employee representatives of each Group entity
with employee representatives at Group level: health & safety topics (results, actions implemented to manage risks, changes in Group prevention measures, etc.) are monitored by the health, safety and quality of life at work working group of the ENGIE European Works Council twice a year.
with the ENGIE directors, via the Ethics, Environment and Sustainable Development Committee of the Board of Directors.
D. Report
The results and main health & safety actions are subject to a detailed publication in the annual Universal Registration Document.
If you have any questions about health, safety and security, you can contact global-care@engie.com.